Michael Haneke Will Torment Isabelle Huppert And Jean-Louis Trintignant In 'Happy End'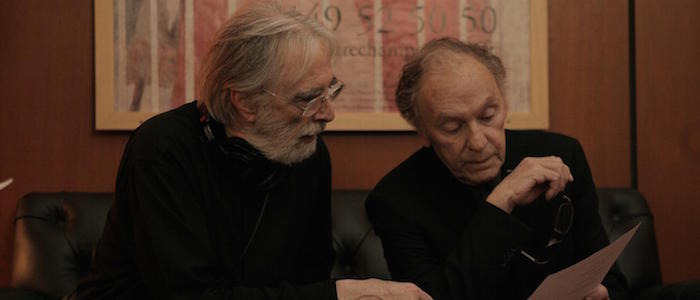 A year and a half ago, director Michael Haneke was one actor away from rolling cameras on his long-gestating project, Flashmob. And then the whole thing fell apart and the master behind films like Funny Games, The Piano Teacher, Cache, and the Oscar-winning Amour found himself without a new film. But you can't keep Germany's master of cinematic misery down for too long, as he finally has another film in the pipeline and he's reuniting with a few familiar performers.
The next Michael Haneke film is Happy End and it will star Isabelle Huppert and Jean-Louis Trintignant, both of whom are veterans of his previous films. Plot details are scarce at the moment, but we'll go ahead and make this bold prediction: Huppert and Trintignant will endure severe physical and emotional torment in shot with such icy precision that your mind will reel.
Although Huppert's involvement in this film has been known for a few months now, the title and the casting of Trintignant were both revealed by the French site Le Figaro (via The Film Stage). Trintignant, the legendary French actor best known to cinephiles for his roles in The Conformist and Three Colors: Red was coaxed out of semi-retirement a few years ago to star in Haneke's Amour, a role for which he received much acclaim. As for Huppert, Happy End will mark the the fourth time she's collaborated with Haneke, following roles in The Piano Teacher, Time of the Wolf, and Amour.
Although plot details are scarce, The Film Stage can report this much:
...the subject of migrants will be "woven" into the plot, but not the main focus of the film, which will also center on "family," according to producers.
Family (and the destruction of family) is a common theme running throughout Haneke's work, but notion of migrants being involved in the plot is certainly interesting. After all, he trod on similar territory with 2000's gripping Code Unknown and now is the perfect time to re-examine that subject matter.
With filming set to begin soon and a 2017 festival run practically guaranteed (Haneke couldn't get refused by a film festival if he actively tried), all we can do now is sit back and wait for whatever gets cooked up. Don't let that title fool you: Happy End will  probably be chilly and unpleasant and an entirely unhappy story filled with dread and longing and complex questions without easy answers. Bless you, Michael Haneke. You keep doing what you do, good sir.