'Zootopia' Trailer Reveals More Of The Modern Mammal Metropolis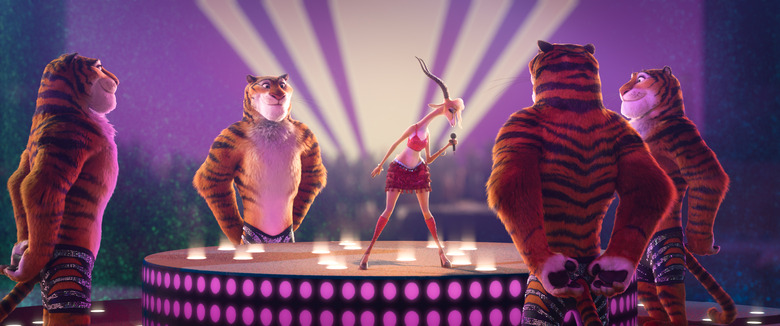 It's New Year's Eve in our world, but it's Zoo Year's Eve in Zootopia. Or so the Disney marketing team keeps insisting. In any case, what this means is that we've got a brand-new Zootopia trailer for you to enjoy on this day, the last of 2015, featuring a brand-new song by Shakira (or as she's known in Zootopia, "Gazelle"). Watch the Zootopia trailer and check out new Zootopia images, after the jump. 
The first Zootopia trailer zeroed in on one particular aspect of Zootopian society: the DMV, which, of course, is staffed entirely by sloths. This one is a bit more free-ranging, traveling all over Zootopia to show us how this world works. As it turns out, it looks a lot like our world – there's the hardass police chief, the Corleone-y mob boss, the blissed-out hippies who sound like Tommy Chong (in this case, because Yax the Yak is actually voiced like Tommy Chong). But there are lots of weird little details, too, like the hamster tubes that service tiny rodent businessmen and the tiny cars with comparatively ginormous parking tickets.
Disney Animation has been on a damn good run these past few years. The Princess and the Frog, Tangled, Wreck-It Ralph, Frozen, and Big Hero 6 all knocked it out of the park, and it looks like that streak could continue with Zootopia. If Zootopia looks like a place you'd like to visit, mark your calendar with the theatrical release on March 4, 2016.
The modern mammal metropolis of Zootopia is a city like no other. Comprised of habitat neighborhoods like ritzy Sahara Square and frigid Tundratown, it's a melting pot where animals from every environment live together—a place where no matter what you are, from the biggest elephant to the smallest shrew, you can be anything. But when rookie Officer Judy Hopps (voice of Ginnifer Goodwin) arrives, she discovers that being the first bunny on a police force of big, tough animals isn't so easy. Determined to prove herself, she jumps at the opportunity to crack a case, even if it means partnering with a fast-talking, scam-artist fox, Nick Wilde (voice of Jason Bateman), to solve the mystery. Walt Disney Animation Studios' "Zootopia," a comedy-adventure directed by Byron Howard and Rich Moore and co-directed by Jared Bush, opens in theaters on March 4, 2016.