'Suicide Squad' Trailer And 'Wonder Woman' Sneak Peek Coming To The CW In January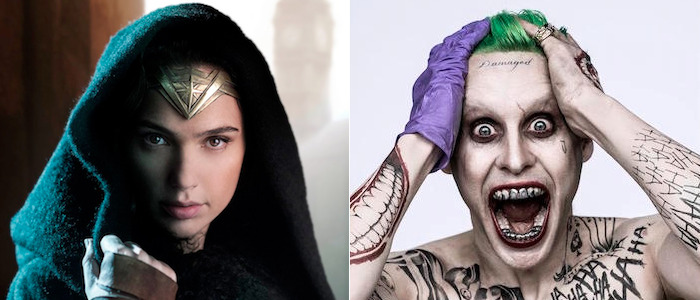 Although we've seen plenty (maybe even too much) from Batman v Superman: Dawn of Justice, the next films on Warner Bros.' DC Extended Universe roster remain a bit more mysterious. Suicide Squad stole the show at Comic-Con this summer with an excellent first trailer, but hasn't revealed any new footage since, and we've yet to see any footage at all from Wonder Woman, which just began shooting last month.
That won't change today, but at least we finally know when it will. A new Suicide Squad trailer is reportedly coming to The CW next month, along with the very first sneak peek at Wonder Woman. Get more details after the jump. 
Unlike Marvel, DC doesn't consider its movies and its shows part of the same cinematic universe. But like Marvel, DC recognizes an opportunity for corporate synergy when it sees one. On Tuesday, January 19, following an all-new episode of The Flash, The CW will unleash two half-hour specials: DC's Legends of Tomorrow: Their Time Is Now at 9 PM and DC Films Presents: Dawn of the Justice League at 9:30.  
As the titles suggest, DC's Legends of Tomorrow: Their Time Is Now will set up DC's new TV series set in the Flash / Arrow universe, while DC Films Presents: Dawn of the Justice League will offer a peek at the upcoming installments of DC's film series including Suicide Squad and Wonder Woman. Here are the official descriptions for the TV specials (via Collider):
DC'S LEGENDS OF TOMORROW: THEIR TIME IS NOW is an in-depth look at the origin stories of the heroes and villains of the highly-anticipated new series, DC'S LEGENDS OF TOMORROW, premiering Thursday, January 21, 2016 (8:00-9:00pm ET/PT). Featuring show clips and interviews from LEGENDS, ARROW, and THE FLASH executive producers Greg Berlanti, Marc Guggenheim, Andrew Kreisberg, Phil Klemmer, and Wendy Mericle, THEIR TIME IS NOW introduces viewers to the immortal madman Vandal Savage, the time master Rip Hunter, and the motley band of heroes and rogues he assembles to try to save the future of humanity: Hawkman, Hawkgirl, White Canary, The Atom, Firestorm, Captain Cold, and Heat Wave.
DC FILMS PRESENTS: DAWN OF THE JUSTICE LEAGUE invites viewers behind the scenes of the exciting new movies coming out of the DC Films universe, culminating in the thrilling world premiere of the all-new trailer for "Suicide Squad," DC's misfit crew of antiheroes forced into saving the world this summer, with director David Ayer  Hosted by filmmaker/writer/lifelong comics fan Kevin Smith, with special guest DC Entertainment's Geoff Johns, the special showcases the explosive landscape of DC's greatest heroes, kicking off with "Batman v Superman: Dawn of Justice," in theatres this March, and with a sneak peek from the upcoming Wonder Woman feature film.
Get a look at never-before-seen footage, and see interviews with such stars as Ben Affleck, Henry Cavill and Gal Gadot, and directors Zack Snyder and Patty Jenkins—just a few of the creative forces behind the much-anticipated film franchise that will bring together the greatest collective of Super Heroes in the upcoming Justice League feature film.  And because no Super Hero could make his or her mark without a truly formidable foe, the special also provides glimpses of DC's most famous Super Villains.
The wording suggests we won't be getting a Wonder Woman trailer proper, but rather some kind of behind-the-scenes preview. The superhero adventure is shooting now under director Patty Jenkins. Gal Gadot leads Wonder Woman as, well, Wonder Woman. Chris Pine, Robin Wright, Danny Huston, David Thewlis, and Ewen Bremner also star. Wonder Woman opens June 23, 2017.
As for Suicide Squad, that's being directed by David Ayer for release on August 5, 2016. The cast includes Will Smith, Margot Robbie, Cara Delevingne, Jared Leto, and Viola Davis, and collectively they are just the cutest thing ever. Revisit the last Suicide Squad Comic-Con trailer below.