'La La Land' First Look: Ryan Gosling And Emma Stone Dance For 'Whiplash' Director Damien Chazelle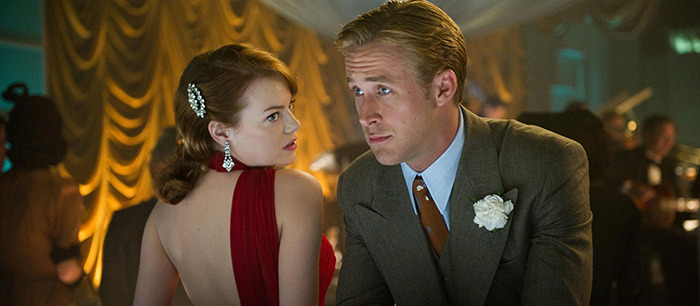 One of the many sins committed by 2013's Gangster Squad (pictured above) was the way it totally squandered the pairing of Ryan Gosling and Emma Stone. The stars had just lit up the screen together in 2011's Crazy, Stupid, Love., but none of the crackling chemistry they demonstrated in that movie carried over to Ruben Fleischer's tedious crime drama.
They'll get another chance to shine together in 2016, though. Gosling and Stone have re-teamed for La La Land, a contemporary yet old-fashioned musical from Whiplash director Damien Chazelle. And if the first image from the film is any indication, they've definitely got their romantic mojo back. Get your La La Land first look after the jump. 
Entertainment Weekly offered the La La Land first look as part of its 2016 preview feature.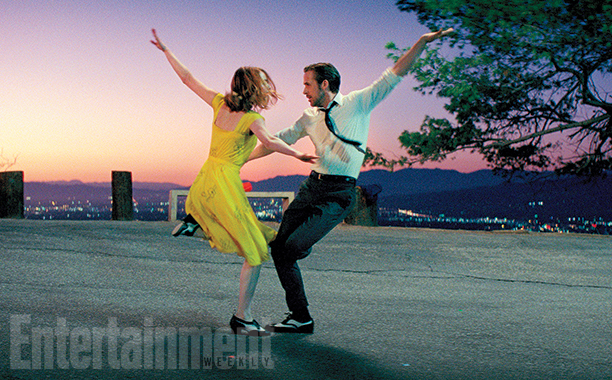 La La Land is set in modern-day Los Angeles, but there's definitely a classic feel to this first image, shot in September in Griffith Park. Stone and Gosling are channeling Ginger Rogers and Fred Astaire, and the styling almost looks like it could be from Hollywood's Golden Age. Chazelle says, "There's an incredible romanticism in L.A. that you don't always see when you're stuck in traffic on the 405," and that dreaminess comes through loud and clear here.
Stone plays an aspiring actress, and Gosling a jazz musician. The pair fall in love, but see themselves pulled apart by "the high-stress environment of the city's arts and entertainment community." Interestingly, Stone and Gosling weren't the original choices for the leads — back when we first heard about the project, Chazelle was trying to get Miles Teller and Emma Watson on board. Which sounds like an interesting coupling too, but a very very different one.
Chazelle got a bit more into La La Land's particular tone in an earlier interview.
I'd like to make a contemporary musical about L.A., starting with the L.A. we know but slowly building to a vision of the city as romantic metropolis–one that is actually worthy of the dreams it inspires. I'd like to make a musical about the way L.A.'s peculiar rhythms can push its residents to the edge of their emotions – be they hope, desperation or love. Think the kind of teetering-toward-madness you see in "The Graduate" or "Boogie Nights", and imagine if you were to push that further. In this case, the city pushes its residents all the way: it pushes them into song.
La La Land arrives in theaters July 15. Also starring are Finn Wittrock, J.K. Simmons, Rosemarie DeWitt, and John Legend.