'Neighbors 2' First Look: Zac Efron And Seth Rogen Are Shirtless In Short Shorts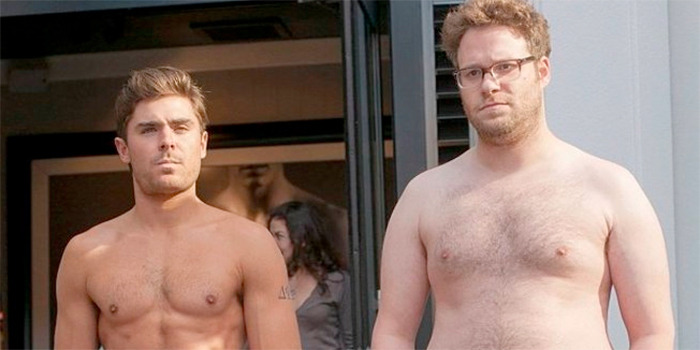 Shirtless in short shorts sounds like the porn parody of Sleepless in Seattle about 22 years too late, but it's actually the best way to describe the way Seth Rogen and Zac Efron appear in our first look at the comedy sequel Neighbors 2: Sorority Rising. Following up the 2014 summer comedy from Forgetting Sarah Marshall director Nicholas Stoller, the movie sees Seth Rogen and Rose Byrne facing a new challenging neighbor, and it looks like plenty of partying is in store for this installment as well.
Here's the first Neighbors 2 photo from Entertainment Weekly: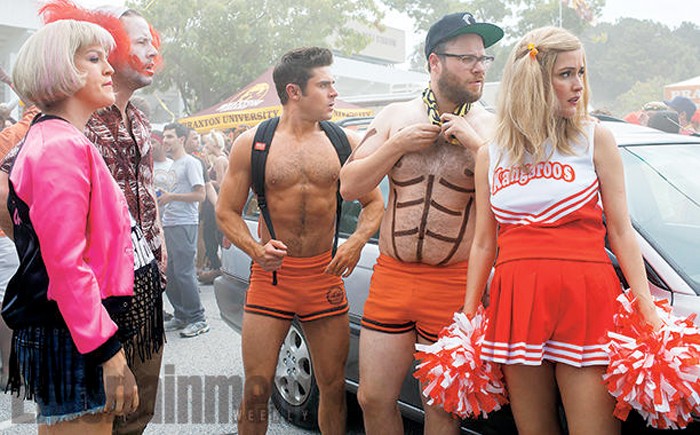 This is the only shot from the comedy sequel that debuted in the magazine's big preview of all the films coming in 2016, but there are some key details to notice. Efron has been enlisted to help Rogen and Byrne deal with a sorority that just moved in next door, and it looks like the partying has gotten out of control. Though with those building and tents in the background, it looks like they could easily be tailgating, perhaps doing some kind of reconnaissance to figure out how to take down the sorority. There is supposed to be some kind of "down-and-dirty Mad Max-inspired tailgate" that happens, so this could be it.
It's good to see Ike Barinholtz and Carla Gallo back, after stealing a few scenes of the first film, but there's still no sign of the sorority's pledges just yet. Chloë Grace Moretz and Selena Gomez are among the girls giving Rogen and Byrne trouble this time, but beyond the loud partying, the couple has another concern. Byrne told the magazine, "With the sorority girls, it's like a glimpse into their daughter's future, and it terrifies them." Hopefully that makes this more than just an easy retread of the first film's story.
If you're looking for a bit more of a glimpse behind the scenes, Stoller previously posted some pictures from the set, revealing the sorority as Kappa Nu, and a shot of Hannibal Buress with his new police sidekick, Jerrod Carmichael.
A photo posted by nicholasstoller (@nicholasstoller) on
#neighbors2 A photo posted by nicholasstoller (@nicholasstoller) on
A photo posted by nicholasstoller (@nicholasstoller) on
You can see more at Stoller's Instagram page with some interesting teases of the shenanigans in store, including someone who looks like they're about to be burned at the stake, right here.
Neighbors 2: Sorority Rising arrives on May 20th, 2016.