'The Girl On The Train' First Look: Emily Blunt Plays Amateur Detective On Public Transportation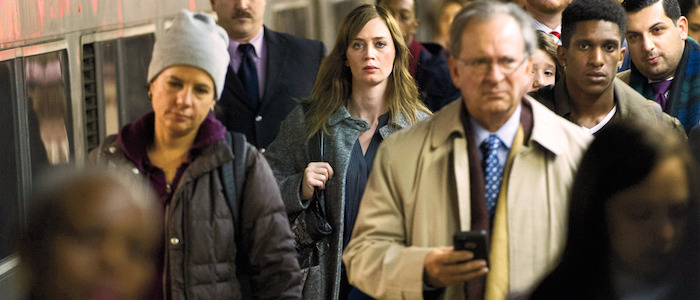 Because it's about a mystery revolving around an unreliable narrator (and possibly because it has "girl" in the title), Paula Hawkins' The Girl on the Train earned instant comparisons to Gillian Flynn's Gone Girl when it was published earlier this year. Now that a film adaptation is on the way, we can move on from comparing the two novels to comparing the film versions. This is how the world works.
In any case, The Girl on the Train wins some instant affection simply by casting the great Emily Blunt as that titular woman on public transit. It's simple movie math: Blunt makes any movie better, whether or not they're based on acclaimed thrillers. The first two official stills from the film have arrived and they showcase Blunt in-character as Rachel Watson. You can check out the Girl on the Train first look below.
Directed by Tate Taylor, who previous helmed The Help and Get On Up, The Girl on the Train follows a troubled commuter who invents a fantasy life for a seemingly happy couple she passes every single day. And then something, uh, bad happens and she finds herself plunged into a mystery. Blunt is backed up by a strong line-up of thespians, including Justin Theroux, Rebecca Ferguson, Édgar Ramírez, Luke Evans, Allison Janney, and Lisa Kudrow. I have not read the book, but my wife devoured it in about two days and she also compared it to Gone Girl, so take from that what you will.
These new photos come to us via Entertainment Weekly, who also spoke with Taylor about his adaptation. Although the action has been transplanted from London to New York City, he insists that this only deepens the loneliness that is so important to Rachel Watson as a character. "It adds another layer of loneliness. She's trying to reclaim or redefine herself, and yet she's not in her native land," he explained. He also emphasized her "murky" motivation for play amateur detective: "Rachel does things that we all think, and we all wish we could do."
In lieu of a proper synopsis, here's the official description taken from the book's dust jacket:
Rachel takes the same commuter train every morning. Every day she rattles down the track, flashes past a stretch of cozy suburban homes, and stops at the signal that allows her to daily watch the same couple breakfasting on their deck. She's even started to feel like she knows them. "Jess and Jason," she calls them. Their life—as she sees it—is perfect. Not unlike the life she recently lost.
And then she sees something shocking. It's only a minute until the train moves on, but it's enough. Now everything's changed. Unable to keep it to herself, Rachel offers what she knows to the police, and becomes inextricably entwined in what happens next, as well as in the lives of everyone involved. Has she done more harm than good?
The Girl on the Train will open in theaters on October 7, 2016. Check out the first official images from the film below.