Latest 'Fantastic Beasts' Image Drops In On A More Magical Version Of 1920s New York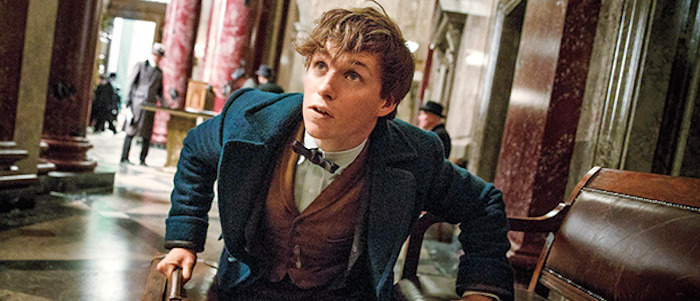 The first Fantastic Beasts and Where to Find Them teaser dropped earlier this month, but it didn't reveal a whole lot about the characters, or the story, or the world it's set in. As a result, we're still in the "lap up anything we can get" stage of our Fantastic Beasts anticipation. Today, that means poring over a new photo featuring Newt Scamander (Eddie Redmayne) in 1920s New York. See the latest Fantastic Beasts image after the jump. 
Empire unveiled the latest Fantastic Beasts image.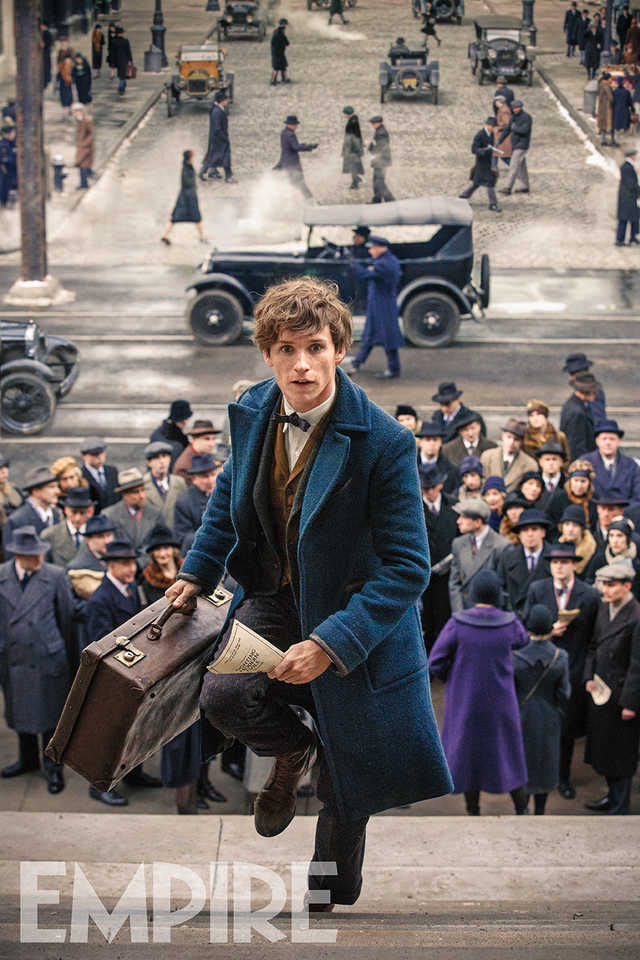 There are no earth-shattering revelations here. That paper in Newt's hand might offer some hints, but it's impossible to make out the text. (For me, anyway. If you can actually read it, let us know what it says.) But it is cool to get a better glimpse of the story's unique setting. Though Fantastic Beasts belongs in the same universe as the Harry Potter movies, it takes place one ocean away and 70 years earlier. 1920s New York has its own personality and texture, and it should be interesting to dig into this alternate, more fantastical version of our history.
And while the Harry Potter saga mostly took place within magical community, aside from the occasional detour to the Dursleys' home, Fantastic Beasts will feature a greater focus on the relationship between wizards and Muggles — or "No-Maj," we Americans are apparently calling them. The film even features the franchise's first major
Muggle
No-Maj character, Jacob (played by Dan Fogler). "We are going into the magical world, but we're bringing the magical characters into the Muggle, or 'Nomaj', world," said producer David Heyman.
You can find a little more detail in the official synopsis:
"Fantastic Beasts and Where to Find Them" opens in 1926 as Newt Scamander has just completed a global excursion to find and document an extraordinary array of magical creatures. Arriving in New York for a brief stopover, he might have come and gone without incident... were it not for a No-Maj (American for Muggle) named Jacob, a misplaced magical case, and the escape of some of Newt's fantastic beasts, which could spell trouble for both the wizarding and No-Maj worlds.
"Fantastic Beasts and Where to Find Them" also stars Katherine Waterston ("Steve Jobs," "Inherent Vice") as Tina; Tony Award winner Dan Fogler ("The 25th Annual Putnam County Spelling Bee") as Jacob; Alison Sudol ("Dig," "Transparent") as Tina's sister, Queenie; Ezra Miller ("Trainwreck") as Credence; two-time Oscar nominee Samantha Morton ("In America," "Sweet and Lowdown") as Mary Lou; Oscar winner Jon Voight ("Coming Home," TV's "Ray Donovan") as Henry Shaw, Sr.; Ron Perlman (the "Hellboy" films) as Gnarlack; Carmen Ejogo ("Selma") as Seraphina; Jenn Murray ("Brooklyn") as Chastity; young newcomer Faith Wood-Blagrove as Modesty; and Colin Farrell ("True Detective") as Percival Graves.
Fantastic Beasts and Where to Find Them arrives in theaters November 18.