'Comedians In Cars Getting Coffee' Season 7 Trailer: Will Ferrell, Steve Martin, And Some Guy Named Barack Obama Guest Star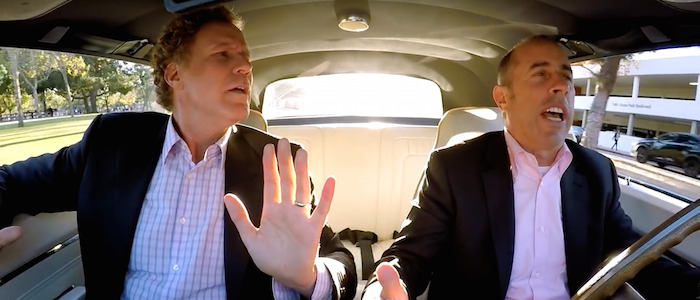 Jerry Seinfeld's popular web series Comedians in Cars Getting Coffee has been quietly chugging along since 2012, producing six seasons in four years and amassing a murderer's row of special guests. The trailer for the seventh season has arrived and it very much resembles what we've seen before: Seinfeld gets in a classic car of some kind, picks up a beloved comedian or actor, and chats with them while they drive to a coffee shop or restaurant. This loose format pretty much allows the show to be whatever it wants to be and do whatever it wants do, so why fix what isn't broken?
Anyway, the new season looks like more of the same (not a bad thing), with new guests that include the likes of Will Ferrell, Garry Shandling, Steve Martin, Kathleen Madigan, and some guy named Barack Obama. Have you heard of him? Watch the Comedians in Cars Getting Coffee season 7 trailer after the jump.
In all seriousness, every President of the United States has done his fair share of talk show appearances, wielding popular culture as a tool to discuss policy and butter up the American people. However, President Obama has officially taken things to a new level by participating in a freewheeling talk show that is set almost entirely in a car. We live in a weird future.
For the record, the President only makes a vocal cameo in this trailer. After all, how does he not instantly overshadow everyone else?
Then again, President Obama has never been afraid embrace what's popular and put himself out there. His conversation with Marc Maron on the WTF podcast is fascinating and his appearance on Zach Galifianakis'  Between Two Ferns remains one of the strangest things a sitting President has ever done in public. After that, appearing on a comedian-centric mobile talk show seems completely sane and normal in comparison.
However, it seems that Seinfeld and Obama will be "getting coffee" in the White House's staff dining room, which implies that there probably won't be too many cars in that particular episode of Comedians in Cars Getting Coffee. But you just know that White House coffee is probably super delicious. In any case, this feels like a huge win for this series whether it actually gets the President in an automobile or not.
Comedians in Cars Getting Coffee season 7 will premiere tomorrow, December 30, 2015, on Crackle. The Barack Obama episode is up first, which gives the likes of Will Ferrell the unenviable task of going on after the leader of the free world.