The First 'Orphan Black' Season 4 Teaser Is An Eyeful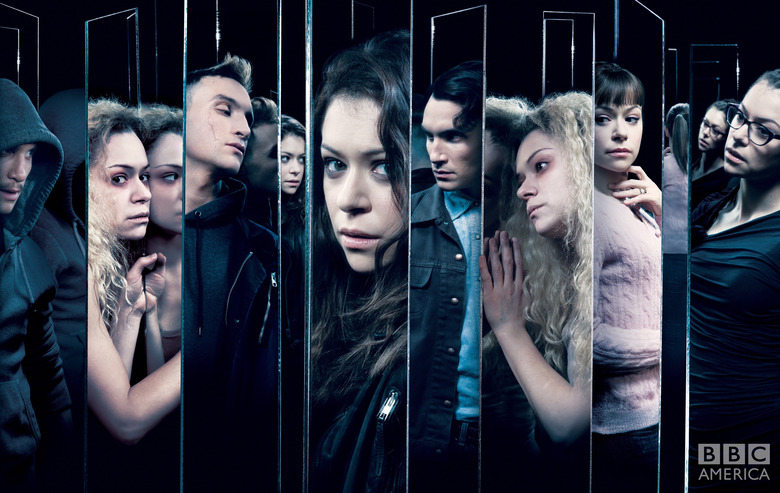 BBC America's Orphan Black has quite the sprawling cast. There's Sarah and her countless clone sisters, each of whom brings her own entourage of supporting characters; there are various antagonists and allies who weave in and out of the show; and as of this past season, there's even a whole line of boy clones with all the extra baggage that entails. But the first Orphan Black Season 4 keeps the focus very, very tight, zeroing in on just one character with a curious accessory. Watch the first Orphan Black Season 4 teaser after the jump. 
The Orphan Black Season 4 teaser is awfully cryptic. It's not even clear if this is actual footage from the season. It's quite possible this is just a creepy image to get fans' buzzing. So let's talk. What's with the eye? Could it be Rachel's new eye? Or is it just a reminder that the clones are watching each other? The Season 4 synopsis (which you can read below) promises the sestras will be "pulled in disparate directions," after all, with Sarah "estranged" from the clones.
As a fan of the show, I have to admit it's run out of steam a bit lately. Season 1 was fantastic, and Season 2 was pretty great, but Season 3 felt aimless even as the show chucked a whole new pack of (male) clones into the mix. The show's gotten so messy at this point, it's hard to keep track of what's going where and who's double-crossing whom. Personally, I hope the eye represents the show's writers taking a good hard look at where the show went off the rails, and making moves to fix it.
Orphan Black Season 4 premieres in April.
Sarah, reluctantly return home from her Icelandic hideout to track down an elusive and mysterious ally tied to the clone who started it all — Beth Childs. Sarah will follow Beth's footsteps into a dangerous relationship with a potent new enemy, heading in a horrifying new direction. Under constant pressure to protect the sisterhood and keep everyone safe, Sarah's old habits begin to resurface. As the close-knit sisters are pulled in disparate directions, Sarah finds herself estranged from the loving relationships that changed her for the better.
Returning this season is Jordan Gavaris as Sarah's battle-worn foster brother Felix; Maria Doyle Kennedy as Sarah and Felix's foster mother Mrs. S; Kristian Bruun as Donnie, Alison's partner-in-crime and husband; Kevin Hanchard as Art, Beth's detective partner who's torn between his job and his loyalty to the clones; Skyler Wexler as Sarah's long-suffering daughter Kira; Ari Millen as a mysterious new Castor clone, the likes of which we've never seen before; and Josh Vokey as Scott, Cosima's lab partner. Also returning this season is James Frain as Ferdinand, an intimidating "cleaner" for shadowy organization, Topside; Allison Steadman as Kendall Malone, "the original"; and Rosemary Dunsmore as Susan Duncan, Rachel's adoptive mother and one of the leading scientists of Project Leda. Joining the Orphan Black cast this season is Joel Thomas Hynes as Dizzy, an edgy, self-reliant hacker who doesn't conform to group mentality. Additional casting for the series will be announced in the coming weeks.