'Home Alone' Deleted Scene Makes Uncle Frank Even More Of A Jerk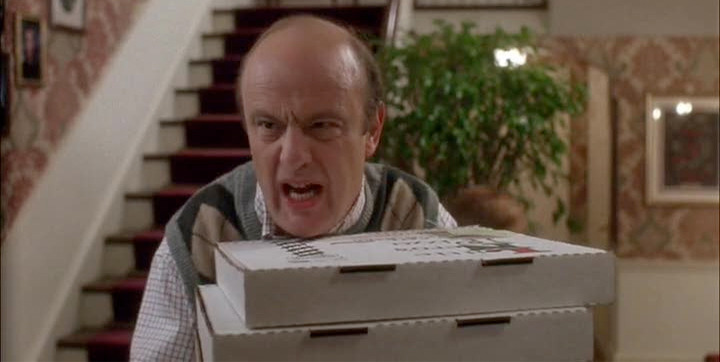 Even though it's Uncle Frank (Gerry Bamman) who really lashes out at Kevin McCallister (Macaulay Culkin) in Home Alone by calling him a little jerk after he causes a commotion that gets soda spilled on the pizza and airline tickets, pretty much everyone who loves watching this movie knows that Uncle Frank is the real jerk. Whether it's his desperation for free champagne in first class, not paying for pizza at the McCallister house or attempting to steal the airline's silverware, he's just the worst.
Now an old deleted scene from Home Alone has been making the rounds online that you may not have seen, and it shows that Uncle Frank is even more of a jerk than we already know. Watch the Home Alone deleted scene below!
Here's the scene that's been making the rounds on Reddit this weekend:
We know Christmas is over, but it's still the holiday weekend, so we don't think it's ridiculous to still talk about Home Alone. After all, it's not like we're talking about the movie around Easter or anything. Plus, Daniel Stern got everyone talking about Home Alone this weekend after delivering a funny video showing that his character Marv is still terrified of adult Kevin McCallister. And that all came about because Macaulay Culkin appeared in a web series, recalling a familiar tale of thwarting an attempted burglary at a young age.
As for this Home Alone deleted scene, even though it makes Uncle Frank look like a bit more of a jerk, pulling pranks on nieces and nephews is just part of the deal of being an uncle. At least he didn't pull that stunt in public and embarrass Kevin like his brother Buzz did during the Christmas concert in Home Alone 2: Lost in New York.
However, for those out there who believe in the conspiracy that Uncle Frank hired the burglars to kill Kevin, this is just one more scene that adds fuel to that crazy fire. What's that? You didn't know that there's a theory out there that in addition to being a jerk of an uncle, Peter McCallister's brother Frank also hired Harry and Marv to rob his brother and kill Kevin? If that sounds a bit extreme, that's because it is. And if you go read the whole theory, it sounds very flimsy, far too malicious and just plain ridiculous. Though I wouldn't put it past Frank to fill Fuller up with Pepsi to punish Kevin.