Listen To Radiohead's Unreleased 'Spectre' Theme Song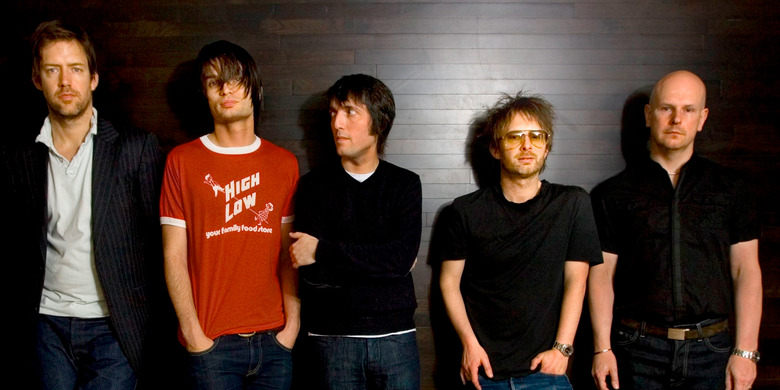 When the theme song for this year's James Bond adventure Spectre, recorded by Grammy winner Sam Smith, was released, the reaction was mixed. The song mostly sounded like a signature 007 ballad, but it felt like it was missing something. There was plenty of crescendo but it never seemed to go anywhere. But did you know there was another Spectre theme song that was left behind?
Radiohead actually recorded an opening theme for Spectre, but it just didn't end up getting used. But as a bit of a Christmas present this weekend, the band as made the track available for you to listen to right now.
Here's the unused Radiohead Spectre theme song from SoundCloud (via The Verge):
Here's what the post on SoundCloud said to accompany the release of the track:
Last year we were asked to write a theme tune for the Bond movie Spectre.
Yes we were. It didn't work out, but became something of our own, which we love very much.
As the year closes we thought you might like to hear it.
Merry Christmas. May the force be with you.
It sounds like Nigel Goodrich, a record producer often referred to as the sixth member of Radiohead, may have written this post with that Star Wars departure. After all, Goodrich was just recently confirmed to have a cameo in Star Wars: The Force Awakens, so he's clearly a huge Star Wars fan. But that's not really important right now, even though the movie is still doing insane box office numbers this holiday weekend.
As for Radiohead's Spectre tune, as a fan of the band, I like it more than Sam Smith's theme. But at the same time, it also has the same problem that Smith's does in that it never quite builds to anything exciting. A Bond theme really needs to build to at least one big moment, whether it's in the refrain or just a single verse. So as much as I like Radiohead's attempt at the Spectre theme, it still doesn't quite feel like a James Bond song to me. At the very least, it's great to have a new Radiohead ballad in the vein of songs like "Videotape".
And if you're in the mood for revisiting James Bond theme songs, or own Jacob Hall ranked every single one of them back when Spectre hit theaters, and you can see which ones made the top of the list right here.