Quentin Tarantino's Rule? No Cell Phones On The Set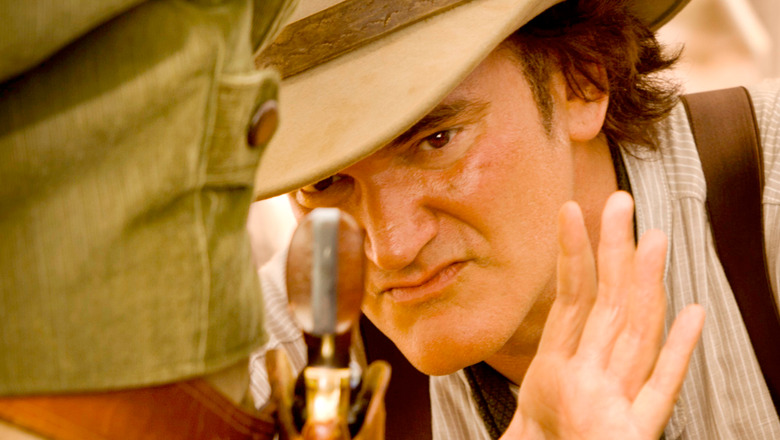 We all know how annoying it is when a cell phone goes off during the middle of a movie. Now, imagine how much more bothersome it is for a cell to go off during the shooting of a movie. Just think of some actor giving a scene their all, the lighting is perfect, and right before they get the perfect shot.. it's killed by somebody's android phone. That must happen, and apparently, it's occurred more than a few times to Quentin Tarantino.
Learn why the writer-director behind The Hateful Eight doesn't permit cellular telephones on his sets after the jump.
While promoting Spectre, Tarantino regular Christoph Waltz discussed his admiration for the director's policy with Playboy:
Quentin has this strict rule, wholeheartedly, with emphasis and vehemently, and I totally subscribe to it: No cell phones on the set. As you enter the soundstage or location, a person collects them. If you can't live without your gadget, don't enter the set. If you have to be reachable for your day-to-day professional proceedings, don't enter the set. It's either/or. People actually have to sign a paper that they agree to—what to call it? I'll call it Lex Quentini.
Apparently Tarantino doesn't take phones ruining his takes lightly, and nor should he. Years ago he talked about this with Jay Leno:
Nobody can be anywhere around my camera with a cell phone. We actually have a Checkpoint Charlie (phone check point)... I've done scenes in movies and all of the sudden somebody's cell phone on the crew goes off and ruins the scene. That can't happen. We're here to do something, we're really conjuring up something, and I can't have my actors' acting, or anything that we're trying to do, be messed up by a cell phone. People can say, "Oh, well I'll remember to put it on silent." "I'm not here to test your memory. We're here to do this. You will screw up everything we're doing.
Quentin Tarantino's rule clearly helps him achieve his desired results. The director wants his shoots to be an experience, for the actors to be fully present, which is tough if everyone's eyes are glued to their cell phones between takes:
"Now that everyone has these smart phones, it's had an even more meaningful reason, because you go on most sets now that don't have this rule and people actually aren't working with each other anymore. They're always on their cell phone, they're updating their Facebook, everyone's always kind of in their own little world – and the whole thing about a movie is everyone is all coming together to work together and you get to know everybody."
The Hateful Eight opens in limited release on December 25th and expands in theaters December 31st