'Mad Max: Fury Road' Is Quentin Tarantino's Favorite Movie Of 2015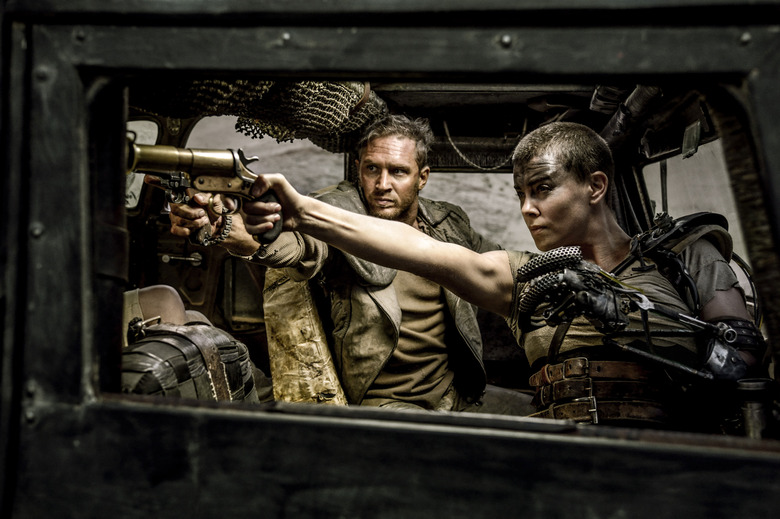 The top 10 list I always look forward to the most towards the end of any year is the one from writer-director Quentin Tarantino. His taste is not
, but sometimes a little outside of the box. The director once included Woody Allen's Anything Else on a list featuring his
of the past 20 years or so — which, ever since he did that, has made me want to reevaluate Anything Else. Unlike the past few years, Tarantino has yet to reveal his top picks of the year, but he has declared his love for director George Miller's Mad Max: Fury Road.
Read about Quentin Tarantino's favorite movie of 2015 after the jump.
By Tarantino's own admission, he hasn't seen many films this year; he was busy working on The Hateful Eight. Then again, even if he saw most of the movies from 2015, it's likely the highly-exhilarating Mad Max: Fury Road would remain his no. 1 pick.
A French outlet,
, spoke with Tarantino on the red carpet for his latest picture. When asked what his favorite movie of the year is, here's what the director had to say:
I got a print of Mad Max on 35mm and I watched it in my house, and I had it all weekend and I ended up watching it three different times, and I resisted seeing it for a while because I was like, 'Mad Max without Mel Gibson? Forget that!' In a world where Mel Gibson exists, how can you cast Tom Hardy? So, I even wanted to get all defiant about it and #NotMyMax. Then I saw the movie and, 'Okay, it's terrific,' and he's pretty good in it, I have to admit.
Fingers crossed Tarantino releases a full top 10 list soon, especially after he's caught up on some recent releases. He often champions movies that either didn't receive their due or was downright loathed by some audiences and critics. For example, Tarantino may have been the only person on Earth to feature both Kick-Ass 2 and The Lone Ranger on a
back in 2013:
1. Afternoon Delight (Jill Soloway)
2. Before Midnight (Richard Linklater)
3. Blue Jasmine (Woody Allen)
4. The Conjuring (James Wan)
5. Drinking Buddies (Joe Swanberg)
6. Frances Ha (Noah Baumbach)
7. Gravity (Alfonso Cuarón)
8. Kick Ass 2 (Jeff Wadlow)
9. The Lone Ranger (Gore Verbinski)
10. This Is The End (Seth Rogen, Evan Goldberg)
The Hateful Eight opens in limited release December 25th and expands in theaters January 1st.