Do Not Miss This Charlie Kaufman Retrospective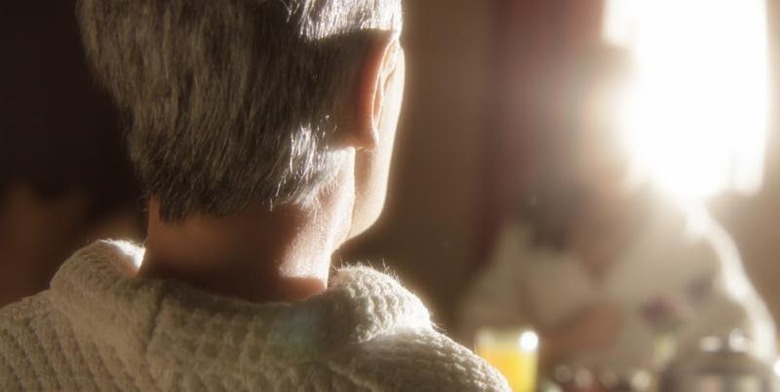 Are you a big Charlie Kaufman fan? Well, you should be, and if you are, you will not want to miss this upcoming Charlie Kaufman retrospective. The screenwriter behind Adaptation and Eternal Sunshine of the Spotless Mind has his sophomore directorial effort coming out soon, Anomalisa, co-directed by Duke Johnson. To celebrate its release, Paramount and participating Landmark Theaters are running a Charlie Kaufman retrospective.
Find out more about the event after the jump.
Kaufman, Johnson, and some of the actors involved in Anomalisa will be conducting Q & A's in New York and Los Angeles. Both Jacob Hall and I are big fans of the film, so we highly recommend not missing out on seeing the directors and all involved discuss the moving and heartbreaking stop-motion feature.
Here's the official press release for the event, which includes times and dates for the screenings:
"BEING JOHN MALKOVICH"
Monday, January 4 | 1:00 p.m.
Nominated for three Academy Awards®, including for Best Screenplay for Kaufman, "BEING JOHN MALKOVICH" follows a puppeteer who discovers a portal that leads literally into the head of the movie star John Malkovich. Directed by Spike Jonze, written by Charlie Kaufman, and produced by Steve Golin, Vincent Landay, Sandy Stern and Michael Stipe. Starring John Cusack, Cameron Diaz and Catherine Keener.
"ADAPTATION"
Tuesday, January 5 | 1:00 p.m.
"ADAPTATION" is the story of a lovelorn screenwriter who becomes desperate as he tries and fails to adapt The Orchid Thief by Susan Orlean for the screen. The film earned Kaufman his second Academy Award® nomination for Best Screenplay, two acting nominations, and a win for Chris Cooper for Best Actor. Directed by Spike Jonze, written by Susan Orlean, Charlie Kaufman and Donald Kaufman, and produced by Jonathan Demme, Vincent Landay and Edward Saxon. Starring Nicolas Cage, Meryl Streep and Chris Cooper.
"ETERNAL SUNSHINE OF THE SPOTLESS MIND"
Wednesday, January 6 | 1:00 p.m.
Winner of the Academy Award® for Best Original Screenplay, "ETERNAL SUNSHINE OF THE SPOTLESS MIND" follows a couple that undergoes a procedure to have each other erased from their memories when their relationship turns sour. It is only through the process of loss that they discover what they had to begin with. Starring Jim Carrey, Kate Winslet, who earned an Academy Award® nomination for her performance, and Tom Wilkinson. Directed by Michel Gondry, written by Charlie Kaufman, and produced by Anthony Bregman and Steve Golin.
"SYNECDOCHE, NEW YORK"
Thursday, January 7 | 1:00 p.m.
Kaufman's directorial debut, "SYNECDOCHE, NEW YORK," for which he also wrote the screenplay, tells the story of a theatre director struggling with his work and the women in his life as he creates a life-size replica of New York City inside a warehouse as part of his new play. Nominated for the Palme d'Or prize at the Cannes Film Festival and winner of the Best First Film Award and the Robert Altman Award at the Independent Spirit Awards. Produced by Anthony Bregman, Spike Jonze, Charlie Kaufman and Sidney Kimmel. Starring Philip Seymour Hoffman, Samantha Morton and Michelle Williams.
"ANOMALISA"
Monday, January 4 in Los Angeles | Check regular listings for showtimes
Thursday, January 7 in New York | Check regular listings for showtimes
Paramount Pictures' "ANOMALISA" is the story of Michael Stone, husband, father and respected author of "How May I Help You Help Them?," a man crippled by the mundanity of his life. On a business trip to Cincinnati, where he's scheduled to speak at a convention of customer service professionals, he checks into the Fregoli Hotel. There, he is amazed to discover a possible escape from his desperation in the form of an unassuming Akron baked goods sales rep, Lisa, who may or may not be the love of his life. A beautifully tender and absurdly humorous dreamscape, from the brilliant minds of Charlie Kaufman ("SYNECDOCHE, NEW YORK") and Duke Johnson ("Community" episode, Abed's Uncontrollable Christmas), this stop-motion animation wonder features the vocal cast of Jennifer Jason Leigh, Tom Noonan and David Thewlis and a stirring strings-based score by Carter Burwell. The darkly comedic and surreal stop-motion journey of a man's long night of the soul, "ANOMALISA" confirms Charlie Kaufman's place amongst the most important of American filmmakers, and announces Duke Johnson as a major creative force.
Produced by Rosa Tran, Duke Johnson, Charlie Kaufman and Dino Stamatopoulos. Written by Charlie Kaufman. Directed by Charlie Kaufman & Duke Johnson. "ANOMALISA" opens in theatres in New York and Los Angeles on December 30, 2015 and everywhere January 2016.
The Charlie Kaufman Retrospective will take place at the Landmark Sunshine Cinema in New York, The Landmark in Los Angeles, the Century Centre Cinema in Chicago, and the Embarcadero Center Cinema in San Francisco.
Unfortunately Landmark Theaters are not showing the excellent Confessions of a Dangerous Mind, but apparently actor/director George Clooney reworked the original script quite a bit. Still, it's hard to complain about the opportunity to experience Kaufman's work in theaters again.
Anomalisa opens in limited release December 30th.