'Deadpool' NBA Promo Teases Christmas Trailer On ESPN, Sadly Doesn't Make A Joke About Balls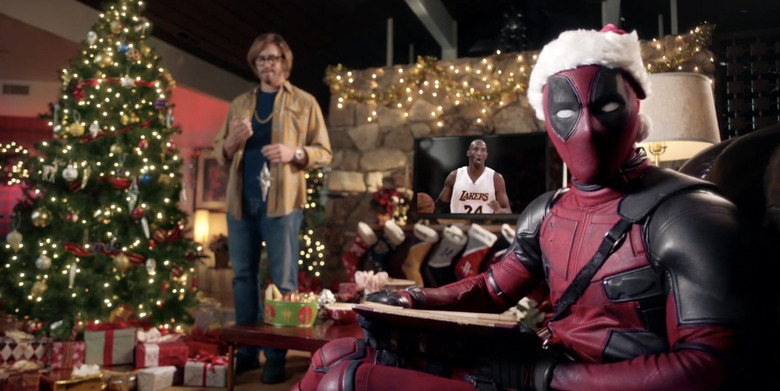 Thanks to the 12 Days of Deadpool promotion that's been going on, we already know that there's a new trailer for the Merc with a Mouth's proper movie coming on Christmas Day. And now we know where the Deadpool trailer will premiere as well with a new NBA-theme promo featuring Ryan Reynolds doing some holiday rhyming while T.J. Miller as Weasel decorates the Christmas tree.
Check out the amusing Deadpool NBA promo after the jump!
Here's the trailer promo for Deadpool from JoBlo:
Just how much work did Ryan Reynolds do for all this marketing that 20th Century Fox is doing this holiday season? Since Deadpool wears a mask, Reynolds doesn't need to be in that suit all the time for these promos, but he seems like the guy who is so passionate about the character that he would put on the suit everytime just to make sure it's done right.
Pretending to read from an NBA version of The Night Before Christmas, Deadpool details that the trailer for Deadpool will debut on ESPN during some of the big games happening on the sports network that day. But more than likely, if you're not a basketball fan, the trailer will be available online right after it premieres. There's even supposed to be a red band version of the trailer so we can get all the raunchiness that a Deadpool movie is supposed to have. It's the kind of raunchiness that's missing from this promo that somehow doesn't have a joke about balls when you need it the most.
Anyway, we'll have the Deadpool trailer posted as soon as it's available online. So if you have some downtime from your family on Christmas Day, spend it with the Merc with a Mouth. In the meantime, you can watch the recent IMAX trailer tease right here also the first red band trailer right here.
Deadpool is directed by Tim Miller and written by Rhett Reese and Paul Wernick (Zombieland). The rest of the cast includes T.J. Miller as Weasel, Gina Carano as Angel Dust, Morena Baccarin as Copycat and Ed Skrein as Ajax.
Based upon Marvel Comics' most unconventional anti-hero, DEADPOOL tells the origin story of former Special Forces operative turned mercenary Wade Wilson, who after being subjected to a rogue experiment that leaves him with accelerated healing powers, adopts the alter ego Deadpool. Armed with his new abilities and a dark, twisted sense of humor, Deadpool hunts down the man who nearly destroyed his life.
Deadpool arrives on February 12th, 2016.