Watch Adam McKay Break Down A Scene From 'The Big Short'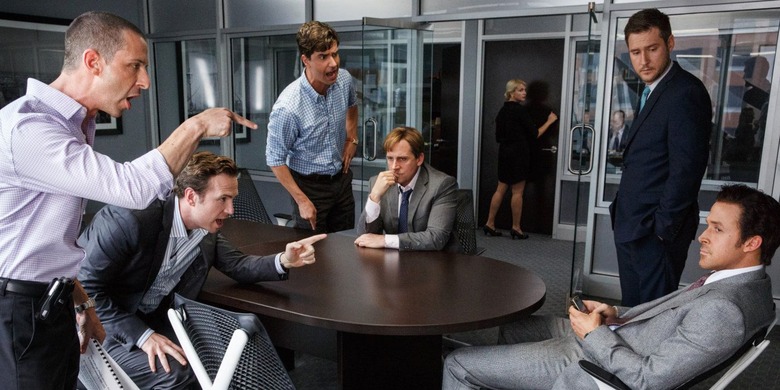 Over a month ago I suggested a world in which Adam McKay got nominated for an Academy Award. I would argue a nomination is long overdue for the co-writer/director of Step Brothers and Anchorman: The Legend of Ron Burgundy, but McKay won't have to wait much longer. After seeing The Big Short, it's a sure thing McKay and co-writer Charles Randolph will see some awards love for their dense, deeply funny and frightening adaptation of Michael Lewis' book.
After the jump, watch Adam McKay break down a scene from The Big Short.
McKay's film is about a band of outsiders who see the financial collapse coming. The adaptation stars Ryan Gosling, Christian Bale, Brad Pitt, Steve Carell, and more familiar faces. In this The Big Short scene, (source: The New York Times), Gosling's character, Jared Vennett, explains mortgage-backed securities:
Expect plenty more economic jargon and exposition like this in The Big Short. McKay often has the characters break the fourth wall, explaining what it all means. This sounds tiring, I know, but it's far from it. The Big Short is unquestionably an Adam McKay film, and his signature sense of outrageous humor helps all the information go down smoothly. Still, this is new territory for the director, and while recently interviewing him, he made it sound like an invigorating experience:
I loved this experience. It was freeing not to be a genre. That was what was so much fun, is that even though there is funny stuff, and I think it has some of the energy that I normally direct with. I just loved that I could do a scene and it didn't have to end with a laugh. I loved that I didn't have to have a happy ending. I loved that I could just do a scene strictly because it looked beautiful. I can do the characters leaving that casino in slow-motion. I didn't have to cut for time because you're driving energy for laughs, and I have to hit certain story points of a genre. Believe me, Will [Ferrell] and I fuck with genre as much as anyone. We are always fighting the comedy genre, but it's there. In this movie, I just felt like there was no genre. I felt like it could be funny. I felt like it could be tragic, informative, whatever it needed to be. So in that sense, I actually found it easier. Easy is not the right word. I'd say it was freeing.
The Big Short is now in limited release and rolls out nationwide starting December 23.