First Look: Tom Hanks Back As Robert Langdon In 'Da Vinci Code' Sequel 'Inferno'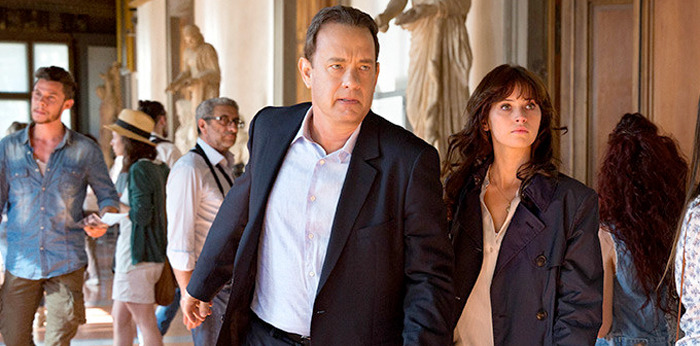 It's hard to believe, but next year it will have been 10 years since Sony Pictures brought the literary sensation The Da Vinci Code to the big screen with Tom Hanks in the lead role as symbologist Robert Langdon caught up in a dangerous mystery. Dan Brown's novel took the world by storm and sat on the bestseller list for a long, long time. Angels & Demons brought back Langdon in 2009, and now he's returning yet again.
Inferno will see Langdon back to solving puzzles, but this time he's having some trouble remembering the past 36 hours of his life and Dr. Sienna Brooks (Felicity Jones) must help him out in order to stop a madman's sinister plan that has ties to Dante's Inferno. A glimpse at the adaptation coming next fall has just arrived with the first Inferno photos showing off the return of Hanks and the new cast members alongside him.
Here's the first Inferno photos straight from Sony Pictures (via The Playlist):
For those who haven't stuck with Dan Brown's Robert Langdon books, here's the synopsis for Inferno:
Harvard professor of symbology Robert Langdon awakens in an Italian hospital, disoriented and with no recollection of the past thirty-six hours, including the origin of the macabre object hidden in his belongings. With a relentless female assassin trailing them through Florence, he and his resourceful doctor, Sienna Brooks, are forced to flee. Embarking on a harrowing journey, they must unravel a series of codes, which are the work of a brilliant scientist whose obsession with the end of the world is matched only by his passion for one of the most influential masterpieces ever written, Dante Alighieri's The Inferno.
The studio decided to skip over The Lost Symbol, which was published in 2009, in favor of Inferno, though at one point the former was supposed to be turned into a movie as well.
As you can see in the photos, the cast also includes Sidse Babett Knudsen (Borgen) and Jurassic World stars Omar Sy and Irrfan Khan. The villain will be played by Ben Foster this time, and while we don't see him in any of the first look photos, we know that he plays Bertrand Zobrist, a super-rich scientist who comes up with a terrifying plan to deal with the world's overpopulation.
With these photos making their way online, more than likely a teaser trailer for the sequel again directed by Ron Howard is on the way, perhaps debuting with the studio's release of the football drama Concussion on Christmas Day. Inferno arrives next fall on October 14th, 2016.