'Fifty Shades Of Black' Red Band Trailer: Marlon Wayans Opens His Playroom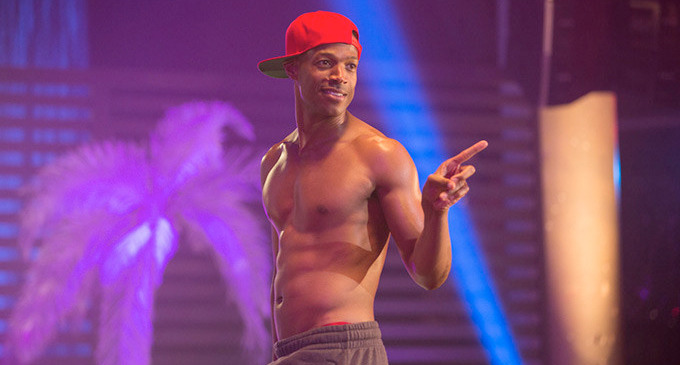 Just when you thought you were safe from the parody movies of Marlon Wayans, the first trailer for Fifty Shades of Black arrived last month. The comedy is a parody of the popular Fifty Shades of Grey, with Wayans taking the title role of Mr. Black, who begins a provocative sexual relationship with an innocent reporter (Kali Hawk).
Now a new Fifty Shades of Black red band trailer has arrived, and along with the goofiness of the spoof this time comes some real raunchy comedy and plenty of f-bombs, making this NSFW. While this doesn't look like it's a quality parody, I will say this one at least looks better than all of the previous Wayans parodies (with the exception of the first Scary Movie).
Here's the Fifty Shades of Black red band trailer from Open Road Films:
Michael Tiddes, who was the director behind A Haunted House and A Haunted House 2 is directing this spoof, which actually feels much more on point as far as parody is concerned. The spoof stays within the confines of the genre they're parodying as opposed to awful attempts such as Epic Movie that merely try to skewer topical pop culture figures and headlines.
Still, that doesn't mean the comedy is anything to write home about, and it doesn't quite measure up to the solid parodying efforts in Scary Movie and Don't Be a Menace to South Central While Drinking Your Juice in the Hood. I will admit that a couple moments are chuckleworthy, if only because of the racial humor that Wayans employs in contrast to Fifty Shades of Grey, but this is still some very broad comedy with not much room for subtlety in the least.
The cast beyond Wayans and Hawk includes Mike Epps, Andrew Bachelor, Affion Crockett, Jane Seymour, Fred Willard and even Florence Henderson. Yes, somehow this movie got Carol Brady from The Brady Bunch to make an appearance in this movie, but you won't see her pop up in this trailer, so maybe her role is being kept as a big joke in the movie.
The poster design is pretty uninspired to, using the spread legs stance we've seen plenty of times before: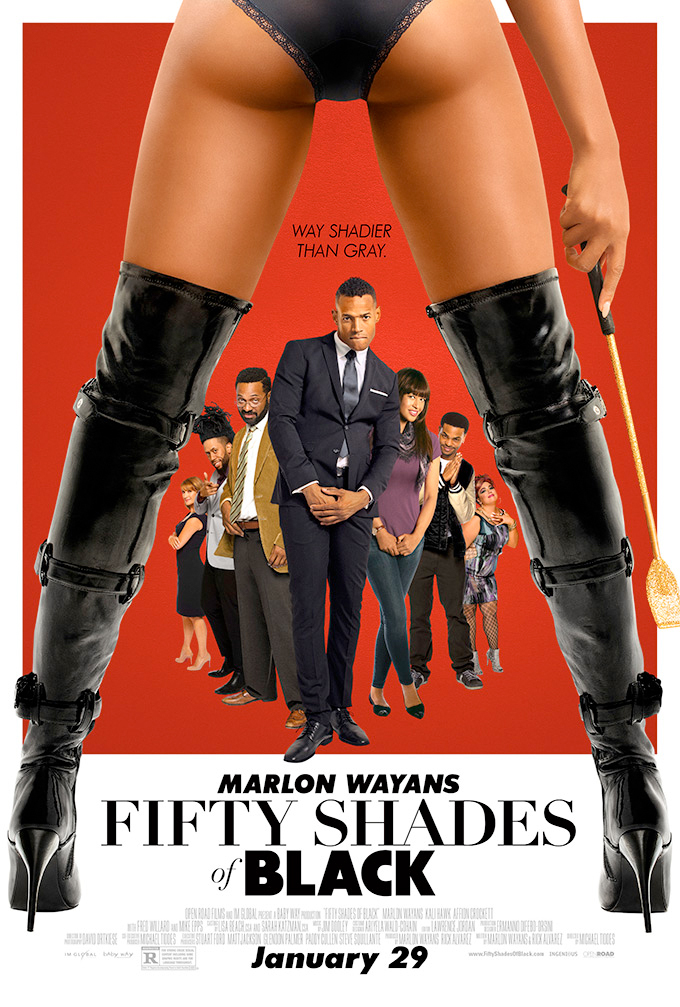 But since there's not much else to offer next month, there's a good chance Fifty Shades Of Black will find a decent audience when it arrives on January 29th, 2016.