Watch Tom McCarthy Explain The Construction Of A 'Spotlight' Scene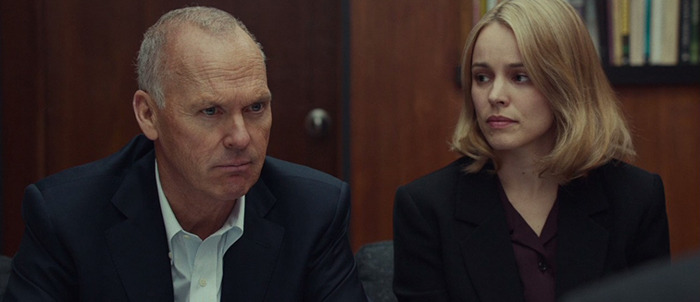 Writer-director Tom McCarthy has had one bizarre year. He wrote and directed one of the year's finest films, Spotlight, and also The Cobbler – a movie so strange and tonally troubled you must watch it. McCarthy, to my surprise, also had a role in this summer's Pixels. The man keeps busy. But Spotlight is the movie everyone keeps talking about, and for good reason. It's an all around excellent film, with an efficient script, taught direction, and quietly riveting performances.
After the jump, watch Tom McCarthy break down a Spotlight scene.
The film is about the Spotlight team at The Boston Globe who uncovered a massive amount of cases of sexual abuse within the Catholic Church. Spotlight isn't a showy film, so McCarthy's direction hasn't quite gotten its due in many regards, but with this clip he highlights the simple but effective choices he made as a filmmaker.
If you haven't seen the movie yet, you may want to avoid watching this. Here's Tom McCarthy providing an audio commentary for a scene from Spotlight, courtesy of The New York Times:
McCarthy makes the mundane truly exciting. Spotlight easily could've been a slog with all its exposition, but because every piece of information feels vital to the characters — and considering the magnitude of the stakes – it's both riveting and (mostly) shocking to watch. It also helps that McCarthy assembled such an immensely watchable cast. As the director stated, you want to see pros like Michael Keaton and Mark Ruffalo in a two-shot, reacting to each other. Their performances and McCarthy's direction are direct and to the point, never trying to throw bags of tricks at a story that doesn't need any.
Here's the official synopsis for Spotlight:
Starring Michael Keaton, Mark Ruffalo, Rachel McAdams, Liev Schrieber, Brian D'Arcy James and Stanley Tucci, SPOTLIGHT tells the riveting true story of the Pulitzer Prize-winning Boston Globe investigation that would rock the city and cause a crisis in one of the world's oldest and most trusted institutions. When the newspaper's tenacious "Spotlight" team of reporters delve into allegations of abuse in the Catholic Church, their year-long investigation uncovers a decades-long cover-up at the highest levels of Boston's religious, legal, and government establishment, touching off a wave of revelations around the world. Directed by Academy Award-nominee Thomas McCarthy, SPOTLIGHT is a tense investigative thriller, tracing the steps to one of the biggest crime stories in modern times.
Spotlight is now in theaters.