'Deadpool' IMAX Teaser: The Merc With A Mouth Has A Giant Chimichanga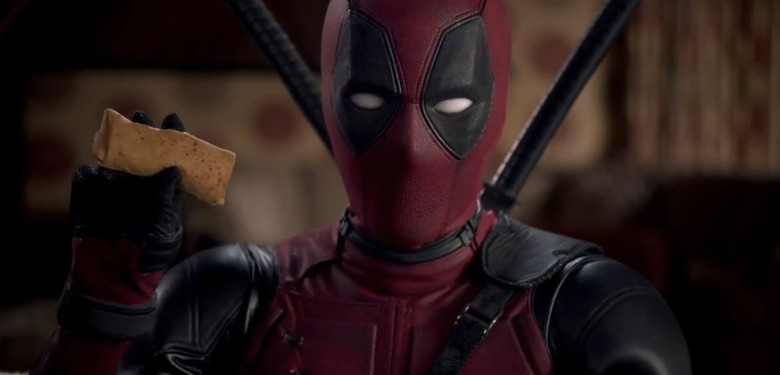 In just a few days it'll be Christmas Day. And while most kids are excited about Santa Claus coming down the chimney with some cool new toys, the adults are excited about a different guy in a red suit coming in 2016. Deadpool is finally getting his own movie, and the red band trailer seems to indicate it's exactly what fans have been waiting for. And now we finally get to see Deadpool on the big screen with one of his favorite foods in a quick new IMAX teaser that hits theaters this week as well. Check it out!
Here's the Deadpool IMAX teaser from JoBlo:
That's one huge chimchanga, and I hope it's not the only Mexican food that we'll see Deadpool messing with when the movie comes around next year. There just has to be a taco truck somewhere in the movie, right? It just wouldn't be a Deadpool movie without a taco truck.
Otherwise, this little teaser just features footage that we've already seen with the previous trailer, so there's not anything new to see there. But having Ryan Reynolds do all these promotional clips in character as the smart-ass Deadpool is delightful every damn time. And he's barely gotten to cut loose with R-rated material, so the movie should be even more inappropriate.
Deadpool is directed by Tim Miller and written by Rhett Reese and Paul Wernick (Zombieland). The rest of the cast includes T.J. Miller as Weasel, Gina Carano as Angel Dust, Morena Baccarin as Copycat and Ed Skrein as Ajax. Stay tuned for the new trailer that will be arriving on Christmas Day this week. Otherwise, you can watch the first trailer right here.
Based upon Marvel Comics' most unconventional anti-hero, DEADPOOL tells the origin story of former Special Forces operative turned mercenary Wade Wilson, who after being subjected to a rogue experiment that leaves him with accelerated healing powers, adopts the alter ego Deadpool. Armed with his new abilities and a dark, twisted sense of humor, Deadpool hunts down the man who nearly destroyed his life.
Deadpool arrives on February 12th, 2016.