'The Brothers Grimsby' Trailer: Sacha Baron Cohen Gives Mark Strong A Wedgie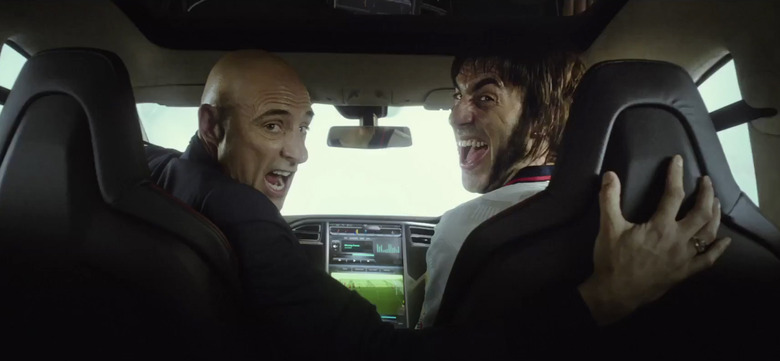 By the time The Brothers Grimsby opens up next spring, it will have been six years since Sacha Baron Cohen starred in a movie, though he did have a cameo in Anchorman 2: The Legend Continues. And this time, he's bringing Mark Strong with him for the extremely British action comedy.
A new The Brothers Grimsby trailer has just arrived, and this time it doesn't just show how Cohen screws everything up for his previously estranged government assassin brother, but also how he tries to help him by giving him a place to hide out. Beware that although this isn't a red band trailer, you do see Cohen's bare butt with a firework sticking out of it.
Here's the new The Brothers Grimsby trailer from JoBlo:
This trailer works a little bit better than the previous one, which was fairly amusing, though I'm still not exactly blown away by the comedy on display. I think the real appeal will be Cohen and Strong interacting with each other as brothers who have been apart for 28 years.
Rebel Wilson seems to be doing her usual comedy schtick, and Penelope Cruz is in the villain role this time, with some kind of poison she hopes to unleash. And Ian McShane works at MI6 as the superior who trained Strong's character. This is quite the strange assembly of talent for an action comedy, but maybe they all come together for something fun in this film from Now You See Me director Louis Leterrier.
MI6's top assassin (Mark Strong) has a brother. Unfortunately for him, he's an English football hooligan (Sacha Baron Cohen) from the town of Grimsby.
Nobby has everything a man from the poor English fishing town of Grimsby could want – 9 children and the most attractive girlfriend in northern England (Rebel Wilson). There's only one thing missing in his life: his little brother, Sebastian. After they were adopted by different families as children, Nobby spent 28 years searching for him. Upon hearing of his location, Nobby sets off to reunite with his brother, unaware that not only is his brother an MI6 agent, but he's just uncovered a plot that puts the world in danger. On the run and wrongfully accused, Sebastian realizes that if he is going to save the world, he will need the help of its biggest idiot.
The Brothers Grimsby opens next year on March 11, 2016.