'The Revenant' Featurette: Beautifully Savage, Horrendously Poetic And Epic At The Same Time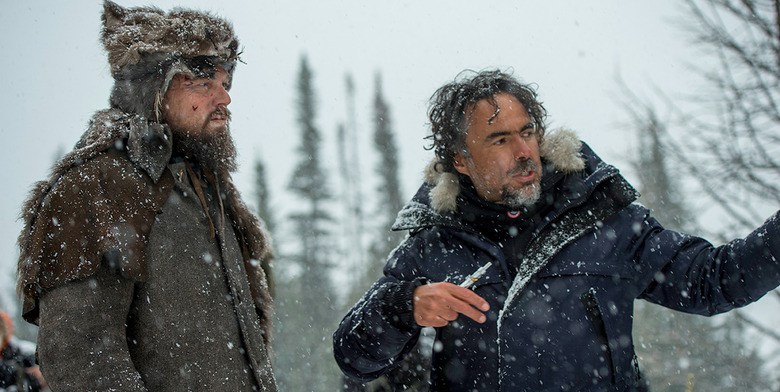 We're just a few short days away from Christmas Day, which means some audiences will be able to enter the brutal world of The Revenant, the latest film from Birdman director Alejandro Gonzalez Inarritu. Oscar hopeful Leonadro DiCaprio stars in the story inspired by true events, playing American folklore legend Hugh Glass in a story of survival and revenge. The trailers for the film have already gotten my full attention, and now The Revenant featurette dive into the thematic elements of the story.
Here's The Revenant featurette from 20th Century Fox:
As Inarritu says, the story is in the tradition of Jack London in that "it's beautifully savage, horrendously poetic and epic at the same time. It's hard to get much more epic than getting attacked by a bear and left for dead in the cold and wilderness, only to survive on your own and seek revenge against the man who left you behind and killed your son.
The filmmaker explains that on the surface this is a story of survival, but behind that is the story of what Hugh Glass was before his struggle to stay alive and find the man responsible for nearly killing him.
Reviews have been somewhat mixed on the film, though everyone agrees that it's a pretty brutal film. Just by the looks of the trailer, if this doesn't get Leonardo DiCaprio an Oscar, I feel like he's just going to have to murder somebody and make sure someone is filming it.
Inspired by true events, 'The Revenant' is an immersive and visceral cinematic experience capturing one man's epic adventure of survival and the extraordinary power of the human spirit. In an expedition of the uncharted American wilderness, legendary explorer Hugh Glass (Leonardo DiCaprio) is brutally attacked by a bear and left for dead by members of his own hunting team. In a quest to survive, Glass endures unimaginable grief as well as the betrayal of his confidant John Fitzgerald (Tom Hardy). Guided by sheer will and the love of his family, Glass must navigate a vicious winter in a relentless pursuit to live and find redemption.
'The Revenant' is directed and co-written by renowned filmmaker, Academy Award winner Alejandro G. Iñárritu (Birdman, Babel). Also starring Domhnall Gleeson and Will Poulter, the film is based on the novel by Michael Punke. Mark Smith and Iñárritu wrote the script for the movie, produced by Arnon Milchan, Steve Golin, David Kanter, Keith Redmon, and Iñárritu.
The film hits limited theaters on Christmas Day and expands wide on January 8th, 2016.