Exclusive 'Body' Clip: Christmas Eve Takes A Nasty Turn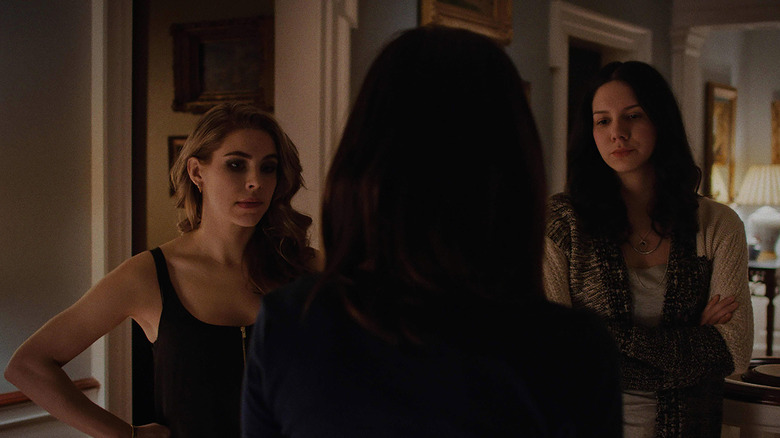 The holidays are all about joy and togetherness and goodwill toward man and all of that, but sometimes you need a break from all that sweetness. Sometimes, you need a nasty little thriller like Body to cut through all that holiday cheer.
Directed by Dan Berk and Robert Olsen, Body follows three college students (Helen Rogers, Alexandra Turshen, and Lauren Molina) who sneak into an empty mansion to party on Christmas Eve. Their good times sour when a freak accident occurs, leaving them with a dead body that needs to be dealt with. We're happy to help make your Yuletide a little bit sicker today with an exclusive clip from Body, which you can watch after the jump. 
In the exclusive Body clip below, the girls set out on their Christmas Eve misadventure. Little do they know Holly inviting her boyfriend over is about to be the least of their problems...
Body earned some positive notice at its Slamdance Film Festival premiere earlier this year. The Village Voice's Lara Zarum described it, intriguingly, as "a stinging indictment of white-girl privilege," while Film School Rejects' Rob Hunter heaped praise on Rogers and Molina. RogerEbert.com's Simon Abrams went even further, likening it to "supposedly minor Alfred Hitchcock masterworks Dial M for Murder and Rope."
Sounds like just the spiky antidote to all that holiday cheer, right? Body is in theaters now, and hits VOD December 29.
A darkly funny and twisted journey taking place entirely on one unforgettable Christmas Eve, Body revolves around a trio of college co-eds whose dalliance with breaking-and-entering goes horribly awry. Sneaking off to a secluded mansion to party, the young girls are faced with dire choices after they unexpectedly encounter the property's groundskeeper. Following a freak accident, the girls find themselves entangled in a Hitchcockian nightmare steeped in tension, suspicion, double-crossing, and murder, where no one is to be trusted and a new twist lies around every corner.