James Franco Remaking 'Mother, May I Sleep With Danger?' For Lifetime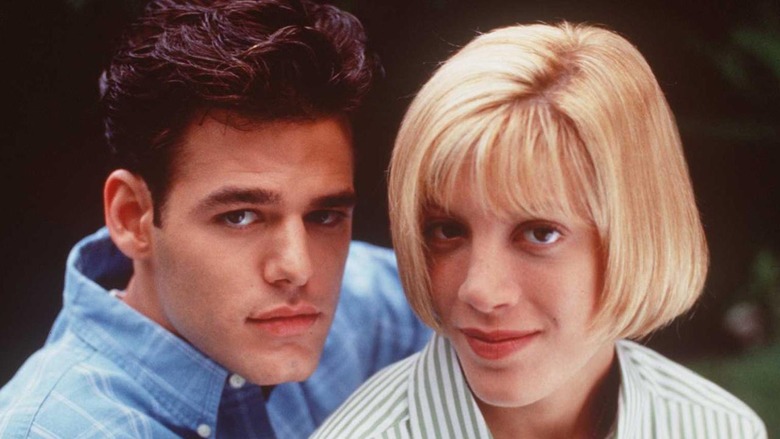 It says something about James Franco's career that his current project The Disaster Artist, a behind-the-scenes look at one of the most notoriously terrible films ever made, is one of the more normal things he's done. But Franco gonna Franco, and so he's got a more offbeat project lined up for his near future as well.
Franco is teaming with Lifetime and Sony Pictures Television to remake Mother, May I Sleep With Danger?, the memorably titled Tori Spelling TV movie that premiered on NBC in 1996. Franco is not expected to appear onscreen, but Spelling is. More about the Mother May I Sleep With Danger remake after the jump. 
Vulture broke the news of the Mother May I Sleep With Danger remake. Franco will penned the story and will executive produce the TV movie, to be directed by Melanie Aitkenhead from a script by Amber Coney. Aitkenhead and Coney previously worked with Franco to adapt his novel Actors Anonymous for the screen. Spelling will star in the new remake, probably as the mother, though neither Sony nor Lifetime have officially confirmed the casting yet.
The original Mother, May I Sleep With Danger? starred Spelling as a college student who falls for a handsome charmer (Ivan Sergei). Her mother, however, begins to suspect he's hiding a deadly secret. The film isn't exactly what you'd call a masterpiece, but it's gained a cult following thanks to many reruns on Lifetime and other channels. The remake is well timed as the film celebrates its 20th anniversary next year — on September 30, 1996, to be exact.
Although Lifetime has continued to churn out the women-in-peril dramas it's best known for, the network has branched out lately with interesting results. Earlier this year it drew tons of buzz and high ratings with the meta not-quite-spoof A Deadly Adoption, starring Will Ferrell and Kristen Wiig. Lifetime also came out of nowhere to deliver one of the best new shows of the summer, the Bachelor-inspired behind-the-scenes drama UnREAL.
While you ponder what a 2016 version of Mother, May I Sleep With Danger? might look like, here's the original to mull over.