'Jurassic World' Congratulates 'Star Wars: The Force Awakens' For Smashing Its Box Office Record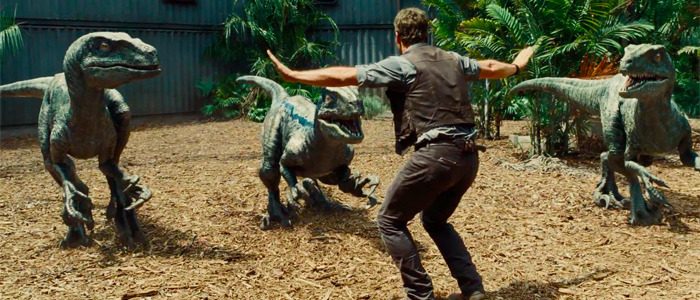 As expected, Star Wars: The Force Awakens obliterated box office records this weekend — including the one set by Jurassic World earlier this year for the biggest opening weekend of all time. But apparently there are no hard feelings on Jurassic World's side. Just as the Marvel team congratulated Jurassic World on a job well done when it took over The Avengers' record, the Jurassic World gang is gamely toasting Star Wars' stellar performance. 
Jurassic World producer Frank Marshall tweeted the image below of a Tyrannosaurus rex bestowing a medal on BB-8, along with the message "Universal Pictures, Steven, Frank and Colin congratulate Star Wars: The Force Awakens on the biggest opening weekend in galactic history."
Cheers to J.J., Kathy, the cast and crew, and DIS/LFL marketing teams! #TheForceAwakens @Disney @StarWars @Bad_Robot pic.twitter.com/oa0zwuAb2Q

— Frank Marshall (@LeDoctor) December 21, 2015
It's not surprising the rivalry between Jurassic World and Star Wars: The Force Awakens is such a friendly one. Marshall, Kathleen Kennedy, Steven Spielberg, and J.J. Abrams have personal and professional relationships going way back (Kennedy and Marshall have actually been married since 1987). And Colin Trevorrow is the one director both franchises have in common — he's set to helm Episode IX now that he's done with Jurassic World. Even before The Force Awakens screened publicly, Spielberg was predicting it could be "the biggest movie ever."
As Peter pointed out in his earlier post about the Avengers / Jurassic World box office matchup, these cute images are a callback to earlier days when filmmakers would take out ads congratulating their friends on their box office achievements. You can flip through some of them below:
Star Wars: The Force Awakens earned $238 million in the U.S., compared to Jurassic World's $208.8 million, plus another $279 million internationally for a $517 million worldwide total. Mind you, that's without any help from China, where The Force Awakens doesn't open until January. (Chinese moviegoers were busy keeping Point Break afloat instead.) It's still got a ways to go if it wants to beat Avatar's $2.7 billion global haul, but the Force is clearly very strong with this one.