'Bad Santa 2' And Clint Eastwood's 'Sully' Land Fall 2016 Release Dates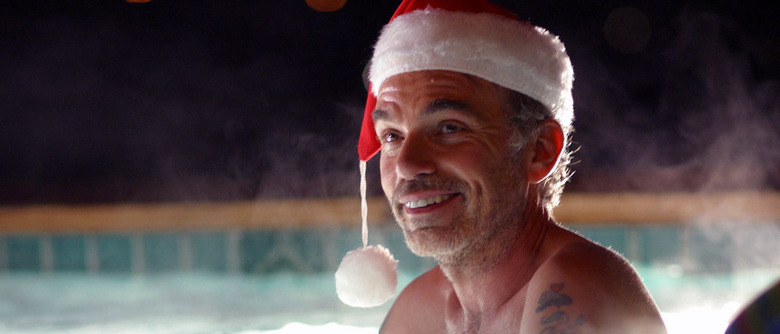 Two movies about two very different men have just been given release dates in fall 2016. Broad Green Pictures has given Bad Santa 2 a prime holiday release during a crowded time at the Thanksgiving box office while Clint Eastwood's movie Sully, about the quick, smart actions of pilot Chelsey "Sully" Sullenberger (played by Tom Hanks), will arrive a couple months earlier on the big screen. Get the release dates and what we know about each movie after the jump.
First up, Variety reports the Bad Santa 2 release date has been set for November 23rd, 2016. That puts it in theaters alongside some pretty heavy hitters such as the Harry Potter spin-off Fantastic Beasts and Where to Find Them, Disney's animated adventure Moana with Dwayne Johnson, and the Matt Damon action adventure The Great Wall.
Bad Santa 2 may serve as some decent counter-programming to any of those films since it's an R-rated comedy that isn't made for the whole family, but I have a bad feeling that the movie isn't going to do very well at the box office. But then again, it just might fill the adult comedy niche at the right time.
Billy Bob Thornton is back as the titular grumpy mall Santa. Tony Cox and Brett Kelly will both reprise their roles from the first film as well. Kathy Bates will be playing Sunny Soke, "the foulmouthed, tough-as-nails mother to Thornton's mall Santa, Willie Soke," which is a little weird since she's only seven years older than Thornton in real life. Mean Girls director Mark Waters will be at the helm, so hopefully this comedy will be worth the 13-year wait when all is said and done.
As for Sully, THR reports the film starring Tom Hanks as the title hero pilot will arrive on September 9th, 2016, courtesy of Warner Bros. Pictures and Village Roadshow.
For those who don't remember, Chesley "Sully" Sullenberger was the pilot who landed U.S. Airways Flight 1549 in the Hudson River in January 2009. That doesn't sound like a good thing to do until you hear that the plane had just taken off from New York's LaGuardia Airport when both engines were knocked out by a flock of Canada geese. Using his quick thinking and some fantastic flying skills, he landed the plane in the Hudson, saving all 155 people on board.
In addition to Tom Hanks, the cast includes Jamey Sheridan, Aaron Eckhart and Laura Linney. I'm not entirely sure how Eastwood will craft a whole film about that event, but maybe it's more about Sully as a person with his heroics as a cherry on top of a character piece. Could we be looking at another chance at Oscars for both Eastwood and Hanks? We'll find out next fall.