Force Awakens Bits: Early Concept Art, Cool New Posters, An In-Depth Journey Behind The Scenes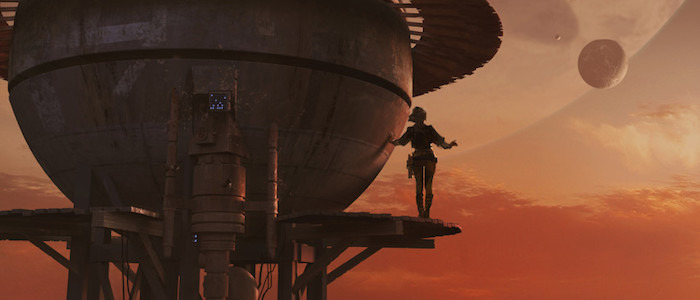 What? You think that we're done with Star Wars news just because Star Wars: The Force Awakens has opened and just about everyone has seen it several times by now? Bah! We're justing getting started! Today:
An in-depth look at the making of The Force Awakens.
A terrific new poster from Matt Taylor.
How Taco Bell employees avoid spoilers.
A chance to pre-order Captain Phasma's helmet for yourself.
Cool new art from Erica Tan.
The unlikely person responsible for some new languages in The Force Awakens.
A batch of early concept art from the film's new art book.
Empire has assembled a massive, in-depth look at the development, casting, and film of Star Wars: The Force Awakens and it is required reading for any fan. Here is one early sample, courtesy of co-writer and saga guru Lawrence Kasdan, from when he set out to rewrite the screenplay with J.J. Abrams:
We wound up sitting in restaurants, the two of us yelling at each other about how things should go in the story. This is supposed to be the most secret script in history and we're sitting at the Café Deux Magots in Paris saying, 'I don't think Han should do that,' and naming names! We worked straight through Christmas on the phone, Skyping and writing pages. We wrote 40 pages during Christmas 2013. We had a script to show people in less than two months.
You can (and should) read the whole thing here.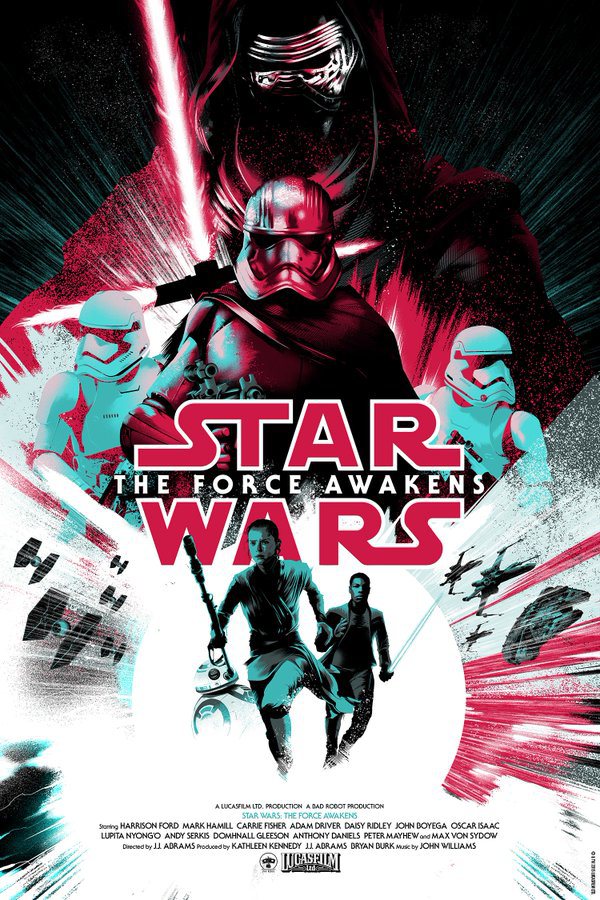 Artist Matt Taylor already created a stunning piece of art for the cover of the Star Wars edition of Birth.Movies.Death, the Alamo Drafthouse theater chain's in-house magazine, but he also went and made an actual poster for Star Wars: The Force Awakens. Utilizing similar assets as his cover, this poster was given to every audience member who attended, and survived, the theater's marathon of all seven Star Wars movies. It is gorgeous.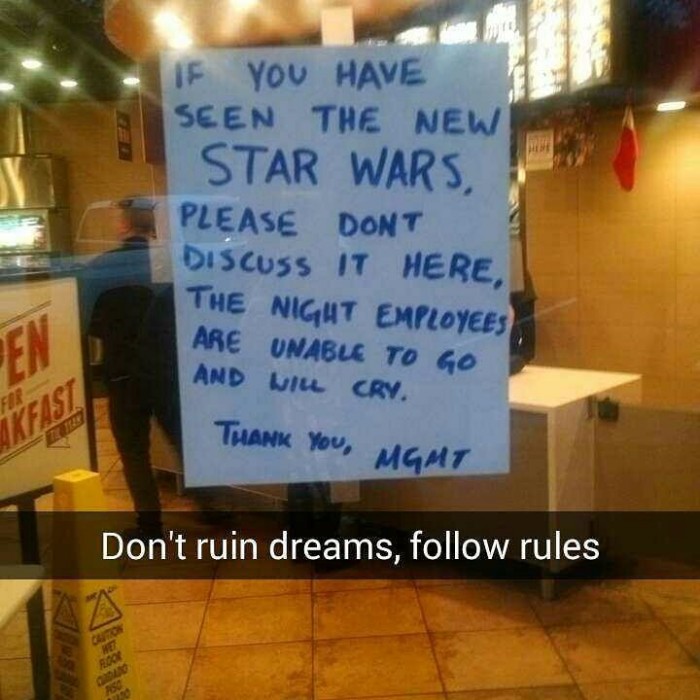 On the whole, the internet has been very good about policing itself with Star Wars spoilers, with not even a few rotten apples spoiling things for everyone else. Unfortunately, the real world is a cold and harsh and unforgiving place where people talk about the movies they've seen within earshot of others. So what are the employees of a Taco Bell, who are working and cannot see Star Wars: The Force Awakens to do? They put this sign up on their window.
She may play a smaller role than expected in Star Wars: The Force Awakens, but with Captain Phasma expected to step up her game in the upcoming sequels, it's time for you, the uber-fan, to get in on the ground floor with the best merch. If you happen to have $679 lying around, Anovos' new Captain Phasma helmet replica is now available for pre-order. That sum is more than a little outrageous, but it is also a big discount from the normal $799 price tag. Do you really need to eat and pay rent this month?
Star Wars will not rest until they know each and every last detail of their beloved universe. It is their blessing and their curse. Thankfully, they have Lucasfilm story group creative executive Pablo Hidalgo to pester for details! Here is the man responsible for keeping the Star Wars canon in check confirming the age of Kylo Ren, which makes complete sense if you've seen the movie and know a little more about the guy.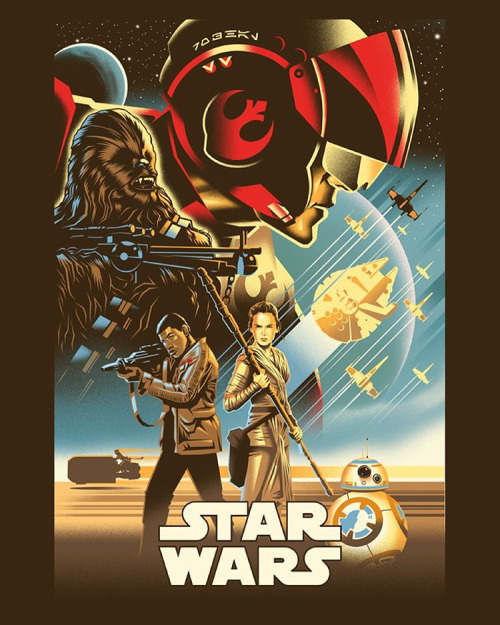 Artist Erica Tan has revealed the art for a timed-edition (i.e., you won't be able to get it forever) t-shirt that she designed featuring the characters of Star Wars: The Force Awakens. Although she admits that she didn't know a thing about Finn, Rey, and Poe Dameron when Lucasfilm hired her for the gig, her art certainly captures the characters well.
Who says going viral only led to fame and not fortune? A few years ago, Finnish singer and YouTuber Sara Maria Forsberg created a video titled "What Languages Sound Like To Foreigners," which racked up over 16 million views. Shortly afterward, she was called upon to help create alien languages for Star Wars: The Force Awakens. Speaking to Variety, Forsberg described her process:
They asked me to listen to Euro-Asian languages, so I listened to Gujarati and Hindi and languages from different islands in Asia. I also watched YouTube videos of languages I didn't understand at all, and then I worked on creating words and structure so it would sound like a believable language. I didn't want it to sound like complete nonsense.
Now that Lucasfilm is going to YouTube to recruit fresh talent for their films, you can never accuse J.J. Abrams and Kathleen Kennedy of not trying something completely different. Above is Forsberg's original video that got her the job.
Wired has unveiled a new batch of images from the new book The Art of Star Wars: The Force Awakens and like the best concept art, these showcase the evolution of how the film came to be while simultaneously showing off what could have been. Some of the art looks very much like the finished versions, like the wastelands of Jakku and General Leia's outfit. Others, like a far less cute BB-8 and some bulkier Stormtroopers, showcase options that were considered and ultimately not pursued. When you look at the gallery above, remember that each of these was simply one among hundreds of ideas that were brainstormed and dropped on the way to the final version. Seeing what wasn't selected is always just as interesting as seeing what was selected.