Interview: 'The Hateful Eight' Actor Tim Roth Is A Gleeful Force Of Nature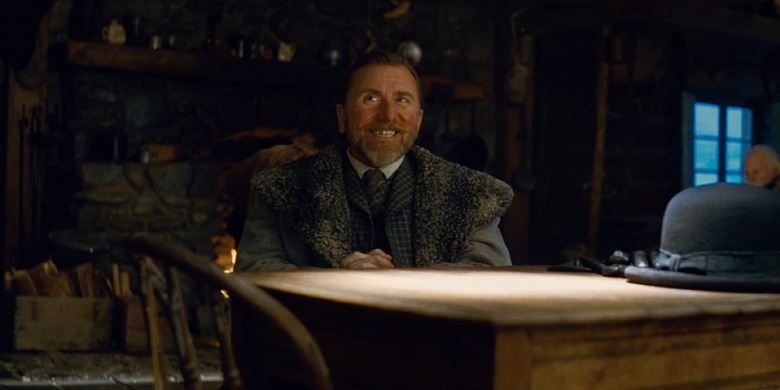 You get the sense both actor Tim Roth and his character in The Hateful Eight, Oswaldo Mobray, are enjoying themselves immensely all throughout Quentin Tarantino's latest western. Roth plays a very posh and exuberant Englishman, who's also a surprisingly thoughtful hangman.
The Hateful Eight is as much a mystery as it is a western, and how the story plays out, I imagine, will be even more satisfying on repeat viewings. The smallest of gestures, conversations, and even the blocking says so much about where these characters stand. It's an intricately crafted film, and Roth, quite clearly, had a ball making it.
I spoke to a few actors at The Hateful Eight press day, and rarely are they so happy to be promoting a movie. This is Roth's fourth collaboration with Tarantino, and he was kind enough to discuss the film, Oswaldo Mobray, and more with us.
Here's our Tim Roth interview:
Oswaldo's mannerisms and movemants are almost larger than life. What was the process like of figuring out how he carried himself? 
It was in the stage direction. I won't do it credit, but Quentin said, "Oswaldo Mobray—a bit of a fop. Not too much of a fop, but a bit of one." [Laughs] So I knew exactly what he was after. Then it just comes out of discussion and film references. He wrote it for me to play. So musically...if you read a Quentin script, if you don't identify with the music and the rhythms of his dialogue, you probably shouldn't be there.
I've worked with him before, so he knows me. He knew I would approach that role with a certain amount of glee and relish it as I did. I have a kind of healthy hatred for the upper classes, [Laughs] which he has known about for some time. So he wrote to that. Our film reference quite often, really, or actor reference was Terry Thomas.
Do you think Oswaldo has a hatred for the upperclass?
No. I think he doesn't. It's not hatred so much as kind of disgust, really. Quentin said if he'd given it to an actor who was from that, you wouldn't have had that dark kind of underbelly, that sarcasm and that cynicism rolling right through the performance. That would have been a struggle to find the other side. The thing about his characters is that you peel back a corner and you see something else. And we chose when the audience was to see that and when they weren't.
I wanted to ask about that, because the movie is a guessing game and many gestures can be interpreted in a variety of ways. Especially during the shoot of the first half of the film, would there be times where Mr. Tarantino would ask for a little bit less or more to give an audience a certain idea of Oswaldo's motivation?
Completely. It's not so much of where he stands, but just, "Let the audience in here. Now shut them out." He has this profoundly kind of vast imagination. [Laughs] And he's, you know, a filmmaking savant or whatever. So yeah, he's got the film in his head. I'm sure he makes changes as he goes along, too. If he sees something drifting in an interesting direction, he'll follow it. But he will say, "Let them in. Give them a little taste here. Now slam the door. Bring it back here." And it's very specific. It comes out of a well thought out script, but also he rehearsed with us a lot. So we kind of had a strong feeling of where we were going to go, how we could play around before we even got to be in front of the camera.
Talking about the rhythms of his dialogue, the speech you give about what justice is, it's fantastic.
Isn't that a great speech? It's extraordinary. Talk about relevant. The thing about it, it's the same with Tom Stoppard, or Pinter, or something like that. The speeches are such fun. I don't think there's anyone out there right now who writes speeches for actors to...And not just the final speech or something in a movie. It's very fluid, and dense, and well-observed, and clever writing throughout the entire piece. I mean extraordinary stuff for actors to play. It's a great piece of theater, I think.
Absolutely. Obviously you enjoy Mr. Tarantino's writing, but does it always roll off the tongue naturally?
No. This is one of the few directors you will ever ask for a line reading from. There's a couple times when you are running at it, you are running at it, you've got it. You feel like you are in the saddle and you really are in control of the speech and you can fly with it, and then you hit a brick wall. And you come back at it again and you keep hitting that wall, and that's when you just go to Quentin and say, "Give me a line reading. What did you have when you wrote it?" And he gives it to you and it's bang on. Then you can slide right through.
That does happen. A lot his speeches you have to really do in complete sections as a whole piece as though you are in the theatre. And you can fluff your lines or you can just lose your way, and he's there to sort of set you straight. He's a very, very fine director of actors, I think.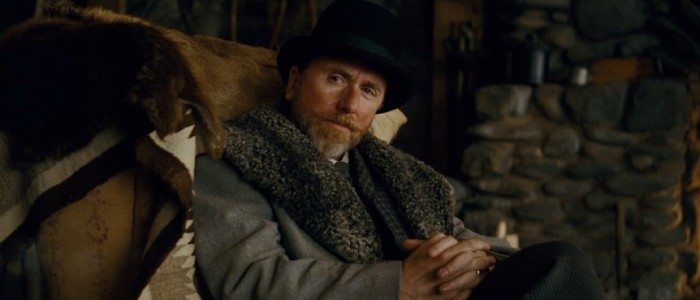 I imagine it must be an advantage coming to work with the same actors and the same location almost everyday. 
Well, it did feel like we did a play together as a group for 6 months or so. It felt that we could bounce off each other. Quite often you have a nice time on a set; you get a great group of actors. But we really became very, very close-knit, really tight.
And so, you could completely rely on each other. If you are feeling, "Oh, I'm losing my way here," they've got you. Kurt's a very, very good example of this, where he'd have nothing to do that day, and he'd come in and just sit around and watch, see what the other actors were doing and enjoy it.
We all discuss this now, because the one pleasure about the press tours starting to take place is we get these mini reunions. I think today is the first day where we're all on deck. This is the first time, which is very exciting. But we all talk about how it could have gone wonky. If there had been a couple members of the cast that were just out for themselves or whatever or the wrong kind of ego... There's plenty of egos in that room. I'll hold my hand up to that. But it could've been the wrong kind of people, in a way.
Quentin always said that came into it with casting. "We're all going to be in this place together for a long time. It's important that there's a real sense of collaboration, a real sense of friendship," he'd say. And he got that right. He really got that right.
The film is very cinematic, even though it's mostly set in one room.
Oh, it's stunning.
Acting in front of those wide lenses, does that change how you work?
There are two or three levels of performance. When you are front and center, but meanwhile, on the sides, in the background, you have to be continuing...that's where having 70 mil in the Ben-Hur lens, an actual Ben-Hur lens, in a room like that gives you that vast sense of kind of theatre arch. And then, of course, he moves it and plays with it. So it works in close-up, in the only way, I would say. But what's happening in the background is very important. The scenes are very carefully constructed for what's happening on the edges and what's not.
Do you miss the days of coming to set and working on film?
I do, because there's a slight sense of...I wouldn't say urgency...How do I put it? There's a risk involved in film because something can go wrong in camera when you are doing your best take, or they get their dailies and they get them to the lab, they develop them, there can be a scratch in the neg and you've got to come back...But there's an element of life that is involved in using film that has been a complete short-circuit and a hard drive going dead or something.
But that element of risk has been taken out of play. There's a life to working on film. It's been a long time since I worked on film, I should say. And I've never worked on 70 mil. This is the only time I've ever done that. But there's an element of Russian roulette where you kind of...you know, "Fingers crossed we got it."
I won't spoil the specific moment, but there's one scene that gives you a sense of Oswaldo's past. How important is backstory to you as an actor? 
Incredibly important with most things, but it's desperately important on this. Quentin came up with a backstory, which I would never share, for all of our characters. I mean every one. We were like, "You've got to make that movie!" But we had it. So we all had it in mind. If you keep that as your personal history, then it allows you another level of play. It allows you another level of performance. His backstory is incredibly. But, like you say, you spotted something [regarding the scene in question]. That comes completely down to this history that he complied which we discussed in rehearsal.
If you'll indulge me, I have to say Stephen Frears' The Hit is one of my favorite movies. When you think back on the making of that film, what comes to mind?
Oh, that was my first feature film. I'd done two jobs before that, one was a gay man Alan Clarke, who is stunning, died young, and it gave me my break. And then Mike Leigh [with Meantime]. So I had no concept of being in a feature film. I didn't know what that meant. I think it was actually [The Clash frontman] Joe Strummer was originally going to play that role and he was having trouble with the band or something. So he said, "Get that skinnard in." I'd played a skinnard in something before. And I went on this road trip through Spain, driving from Cordoba, road tripping and filming all the way up to by Madrid and the Basque Country. So it was an extraordinary experience. I had never been on a plane before. I had no concept of any of this stuff. And there I was with John Hurt and Terence Stamp, and Laura del Sol, and Fernando Rey, all these people. It was remarkable [Laughs]. It's a good film. Beautiful film.
The Hateful Eight opens in limited release on December 25th and expands on December 31st.