Watch This: 'Spearhunter' - A Short Film About The World's Greatest Old-School Huntsman (Probably)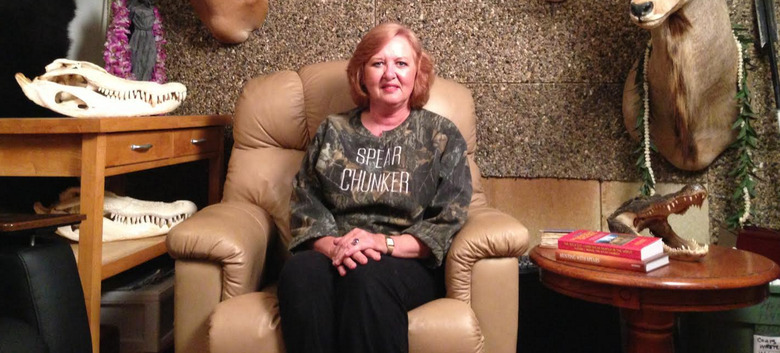 "If you're the only one who does something, you're the world's greatest."
This is the epigraph that opens Spearhunter, a new short film by director Adam Roffman. And in amusing fashion, the film explores the personality and life of Gene Morris, whose Spear Hunting Museum has a mural on its side proclaiming him "The Greatest Spear Hunter in Recorded History." What would drive a person to create such a museum? And how does one spearhunt, anyway?
These were the questions that drove Roffman to make this film. When I saw Spearhunter at the Independent Film Festival of Boston this year, I was taken with its beautiful cinematography and its great use of b-roll and editing, all of which served to give viewers a vivid sense of Morris's egotism and eccentricity. I was also curious about how Roffman, who has previously been a film festival program director and a set dresser on many critically acclaimed films, had made the jump into documentary filmmaking, so I asked him about the making of the film via email.
Spearhunter is now online. You can watch the short film and read my interview with Adam below.How did you come across this story and what was your motivation for making it into a film?
In 2013 my father retired and moved from Washington D.C. to southern Alabama, where he didn't know a soul. After he had been there for a few months he called and me and said it was pretty lonely down there and would like for me to visit. On the way from the airport to his house at night we drove past the Spearhunting Museum, the outside of which is a mural of animal heads and a large man holding a spear. I asked my father "What the hell was that?" and he responded "Oh, some spear hunting museum". I said "Oh, one of those. Well, I'm not going to see that back in Boston (where I live), so we're going there tomorrow". After taking a tour of the museum I realized that this man, Colonel Gene Morris, had built a museum dedicated to himself. I talked over the idea of making it into a film with Luke Poling (co-director of the documentary feature Plimpton! Starring George Plimpton As Himself) and we decided that this man, his museum, and the bizarre little subculture that surrounded it was a unique and fascinating story that would be fun to tell.
You've previously been a set dresser who's worked with incredible directors like Ben Affleck, Martin Campbell, and David O. Russell. What lessons did you apply, either from your previous work or from the people you worked with, to this short film?
If I learned anything from those directors that I applied to this film, it was preparation. Martin Campbell might be the most prepared director I've ever worked with and he would have every shot completely mapped out and decided before anyone on the crew would ever get to work, and that made an impression on me. So Luke, Nathaniel Hansen (our DP/Editor) and I planned out what most of our shots would be before we even went down to Alabama to film it. I honestly learned more lessons about documentary filmmaking from programming a festival for 11 years, watching thousands of documentaries, and tried to use some of the things I liked from some of them while avoiding the mistakes I saw in others.
Can you give some examples of what you learned from watching other documentaries?
It helped in determining what style to do the film in. The subject matter and the type of story we wanted to tell called for static shots and a really planned structure as opposed to a more verite style, and was definitely influenced by the films of Errol Morris as well as some of the work of Sean Dunne, whose films I had programmed at IFFBoston. It also made me really pay attention to the surroundings and backgrounds of any interview we did, because I always notice in documentaries whether any thought or care was taken in selecting what to have in frame or which direction to shoot, especially in the case of interview backgrounds where you definitely have a choice of where to point the camera. With some documentaries it just seems like they put the person in front of a blank wall and don't give it any more thought. What the person is saying needs to be compelling, but what you're seeing on the screen should be compelling too.
Talk a little bit about how you planned the story and shoot for this? What was the budget, and what logistics were necessary to arrange?
When I visited the museum in 2013 I took a ton of photos, so we had a lot of visual references to work from and we actually duplicated some of those photos in the film. I also picked up one of two books that Gene Morris had written about himself while at the museum so Luke and I both read that to get his backstory and derived many of our questions from that. We found who some of our key characters would be from things Gene had written in his book, and found some of the others from just calling down to the area and talking with lots of people who knew Gene or were involved with the museum at one time or another.
The budget for the film was $10,000 and was paid completely out of pocket, split between my and Luke's credit cards. We were able to find free housing through friends we had made on the film festival circuit and got a really great deal on equipment from Rule/Boston Camera because our DP Nathaniel has worked with them a lot.
Other than housing, equipment, and travel, the only big logistical thing that we dealt with was tracking down Heather Jean Morris, Gene's ex-wife. It seemed that everyone I spoke with down there knew her, but none had spoken to her for years and didn't have her contact information, or didn't feel comfortable giving it out. After calling roughly twenty different people in the area trying to track her down I finally got a call from her and she said "I heard you are looking for me". Getting her for the film was a huge coup because most people would agree that she's the real star of the film.
Most short films either do the film festival route, the Vimeo route, or both (yours did the latter). Can you talk about your strategy for getting this film seen?
Luke and I definitely wanted to do film festivals with Spearhunter because we really wanted to see the film with a live audience and because festivals are a great place to get to know so many other filmmakers and become part of a larger community. We initially targeted the Sundance Film Festival and the SXSW Film Festival because we wanted a marquee festival for our premiere. We were thrilled when we got the call that we would be having our World Premiere at SXSW because their documentary shorts programming is always very strong and most of the other good festivals in the country pay attention to what SXSW is showing. We played 36 film festivals (and still have a few to go) which really built up a great support network of festival programmers and festivalgoers who liked the film. We then posted the film on Vimeo and we were fortunate enough to have the film chosen as a Vimeo Staff Pick. Once it was chosen as a Staff Pick we went to work promoting the film as much as we could on social media, and friends, festivals, and film critics who had written about the film shared the link on their Facebook and twitter pages and spread the word about the film. Through festivals we got the personal interaction, and through Vimeo we're having the film seen by tens of thousands of people around the world.
It's challenging to make money through short films. Was monetization ever a priority for you? Why or why not? And what are your thoughts on making money off short films in general?
Making money from Spearhunter was never really a thought for us. It's very hard to make any kind of meaningful money from a short documentary, especially one on such a bizarre subject. Luke and I made this film as part calling card and partially to experiment and have some fun with something in-between feature projects. There are ways to make some small amount of money off of certain short films, but I wouldn't suggest anyone set out to make short films as a way of making a living.
What's next for you? Do you intend to make a career out of documentary directing?
Both Luke and I have several more short documentary projects in the works, and we plan to continue making documentaries. Currently we are co-directing a feature documentary with David O. Russell on the world of book publishing. David's parents met working at Simon & Schuster and he grew up in that world and he wanted to make a documentary about it. I had worked with David on American Hustle and Joy. He saw Spearhunter, and he asked Luke and I (along with our producer, April Hayes) if we would like to make this movie with him and it's been very exciting delving into that world.
You can learn more about Spearhunter at its official website.