Find Out What Shows We'll See From Amazon In 2016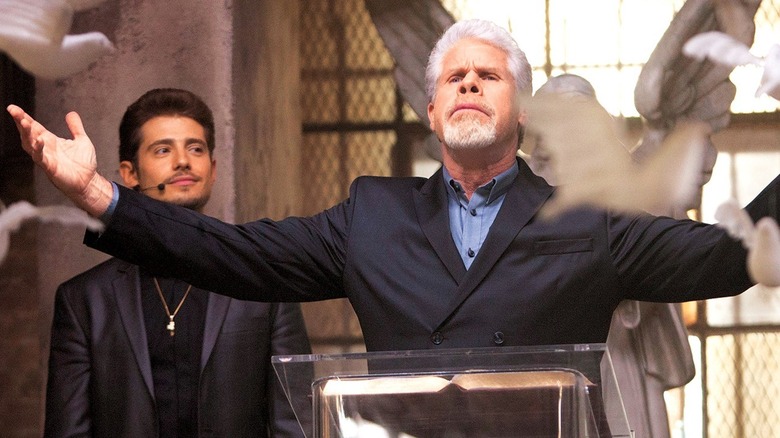 Today Amazon announced they're renewing their new hit series, The Man in the High Castle, for a second season. It's not Amazon's only show to find success, and they've announced what popular shows will be renewed and what they've ordered for next year.
After the jump, find out what the Amazon orders and renewals are.
The Hollywood Reporter shared some of the shows we'll see next year. One Mississippi and Z: The Beginning of Everything, in particular, are the two shows I'm looking forward to the most. Find out what they're about below:
Highston 
From screenwriter Bob Nelson (Nebraska) and directors Jonathan Dayton and Valerie Faris (Little Miss Sunshine), Highston is executive-produced by Sacha Baron Cohen (Grimsby). Highston is a family comedy about a teenager named Highston Liggetts (Lewis Pullman), who's forced to undergo psychiatric help by his parents. Highston has some celebrity friends — real or not, we're not sure — including Shaquille O'Neal and Red Hot Chili Peppers's Flea.
One Mississippi 
Perhaps the most promising show in Amazon's future, because it's executive produced by Louis C.K. (Louie), Tig Notaro and Diablo Cody (Young Adult). Notaro, a co-writer on the show, plays a comedian in this semi-autobiographical story of a woman with declining health. She returns to her hometown of Bay Saint Lucille, Mississippi, after the passing of her mother. The pilot is directed by Nicole Holofcener (Enough Said).
Z: The Beginning of Everything
A biopic about the troubled Zelda Fitzgerald (Christina Ricci) and F. Scott Fitzgerald (Gavin Stenhouse). Actor and very talented director Tim Blake Nelson (Leaves of Grass) helmed the pilot, and it's written by Dawn Prestwich (The Killing) and Nicole Yorkin (The Killing).
Good Girls Revolt
After its promising pilot aired on November 5th, Amazon has given a 10-episode commitment to Good Girls Revolt. Set in 1969, the show is about young female researchers at "News of the Week," seeking equal treatment. It's based on Lynn Povich's "The Good Girls Revolt," a chronicle of sexual harassment cases. Grace Gummer plays writer and director Nora Ephron (When Harry Met Sally...), while Jim Belushi is set to play Wick McFadden. Liza Johnson, who made the overlooked Return, directed the pilot. Variety reported its return first.
Patriot
The political thriller Patriot follows the complicated life of intelligence officer John Tavner (Michael Dorman). His latest assignment is to prevent Iran from going nuclear, requiring him to forgo all safety nets and assume a perilous "non-official cover" — that of a mid-level employee at a Midwestern industrial piping firm. A bout with PTSD, the Federal government's incompetence, and the intricacies of keeping a day job in the "front" industrial piping company, cause a barrage of ever-escalating fiascos that jeopardize Tavner's mission. The show stars Terry O'Quinn ('Lost') as Tom Tavner, and it's also produced by directors Glen Ficarra and John Requa (I Love You Phillip Morris).
If You Give a Mouse a Cookie
Based on the children's book and coming from Emmy-winning writer Ken Scarborough (Doug), 26 episodes have been ordered.
Niko and the Sword of Light
A series based on the animated comic book about "A boy alone, lost in a savage land ruled by darkness. His people gone. His kingdom a smouldering ruin. His only hope is the Sword of Light; a magical relic, forged by the ancient gods – and the only thing powerful enough to return his land to freedom..."
Amazon also renewed Red Oaks, Hand of God and Tumble Leaf. There's no word on premiere dates. Hand of God wasn't a critical darling, but it looks like it drew enough viewers to warrant a second season. Unfortunately, it looks like we won't see more of Whit Stillman's Metropolitan, a delightful pilot based on his debut film. Then again, considering all the quality content Amazon is turning out, it's hard to complain. Just look at the list of talent their shows are drawing. From the actors to who's working behind the scenes, Amazon has lined up a very talented and respectable group for their 2016 lineup.