'Lamb' Trailer: A Dark And Promising Indie Spirit Award Nominated Drama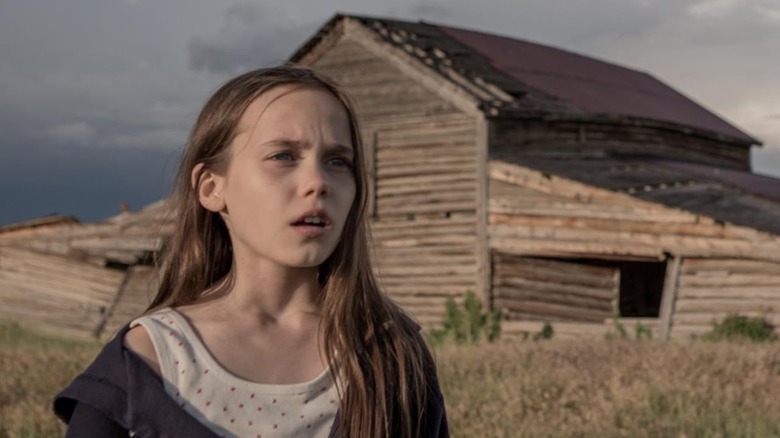 Within the contrived plot of Southpaw, Oona Laurence helped ground a familiar father-daughter relationship. Now Lawrence is returning to a father-daughter relationship with Lamb, except with a slightly unconventional spin. After the jump, watch the Lamb trailer.
The film is written and directed by Ross Partridge, who also co-stars in the film. Lamb centers around a troubled adult and child who strike up a meaningful friendship.
Here's the Lamb trailer:
The first half of this trailer is surprising. With this sort of relationship, you'd expect somebody to start shouting, "What you doing with that kid?" The last half of the trailer, on the other hand, hints at some potential darkness. It's the kind of film that requires a delicate hand. Partridge's story was met with positive reviews at South by Southwest. Here's how Variety described the story:
A dangerously unclassifiable relationship between two lost and lonely individuals is the focus of "Lamb," writer-director-star Ross Partridge's beautiful and troubling sophomore feature. In adapting Bonnie Nadzam's novel about a middle-aged man who befriends a young girl and coaxes her into joining him for a week at his rural hideaway, Partridge navigates risky material with assurance, delicacy and a deepening sense of intimacy that can turn, without warning, into complicity: The more at ease we feel in the characters' company, the more disturbingly questionable the situation becomes.
The trailer reflects this summary. In content, Lamb looks very ambitious. This isn't easy material, based on that Variety review and the trailer, which makes the film more promising. This is Partridge's second film, following 2000's Interstate 84. Next month the director will actually be at the Cinefamily in Los Angeles, with Mark & Jay Duplass conducting a Q & A. If you're in LA, it should be worth checking out.
Here's the official synopsis for Lamb:
Based on the novel by Bonnie Nadzam, LAMB traces the self-discovery of David Lamb (Ross Partridge) in the weeks following the disintegration of his marriage and the death of his father. Hoping to regain some faith in his own goodness, he turns his attention to Tommie (Oona Laurence), an awkward and unpopular eleven-year-old girl. Lamb is convinced that he can help her avoid a destiny of apathy and emptiness, and takes Tommie for a road trip from Chicago to the Rockies, planning to initiate her into the beauty of the mountain wilderness. The journey shakes them in ways neither expects. The film premiered at SXSW 2015.
Lamb opens on January 8th and is available on iTunes on January 12th.