LOL: Lando Calrissian & More Are Mad About Not Being In 'Star Wars: The Force Awakens'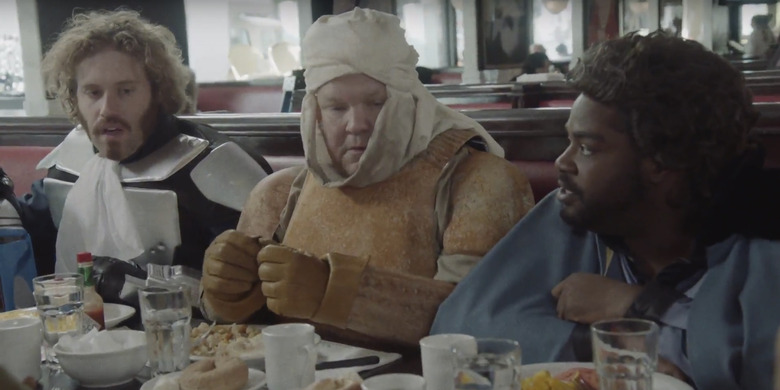 Even though there seems to be quite a positive response to Star Wars: The Force Awakens after the movie played for the first time everywhere last night, not everyone is happy about the new movie. In fact, some of the bit players from the original and prequel trilogy are a bit pissed off about not being included in The Force Awakens, and they were recently caught venting their frustrations about it at a nearby diner.
See Ron Funches as Lando Calrissian and T.J. Miller as Jango Fett in this little sketch from Conan.
Here's the Conan Star Wars cold open from the late night talk show:
Other Star Wars characters who aren't happy include Jabba the Hutt's palace dancer Oola, his right-hand man Bib Fortuna, and Andy Richter as Dengar, though he's not wearing the right color gear. They all mock Chewbacca who is hitting on a pretty girl in the diner, clearly enjoying his continued fame and success. And of course Conan O'Brien pops up, playing Lobot.
And as a bonus, Conan associate producer Jordan Schlansky came on the show to ask a super nerdy question about Luke Skywalker's lightsaber to director J.J. Abrams and star Harrison Ford, before having the latter sign his limited edition LEGO Millennium Falcon. However, it doesn't end quite as well as when John Boyega had Harrison Ford sign his Han Solo in Stormtrooper gear figure:
I guess that's what Schlansky gets for asking someone like Harrison Ford a hard-hitting question.