'Star Wars: The Force Awakens' - What Did You Think?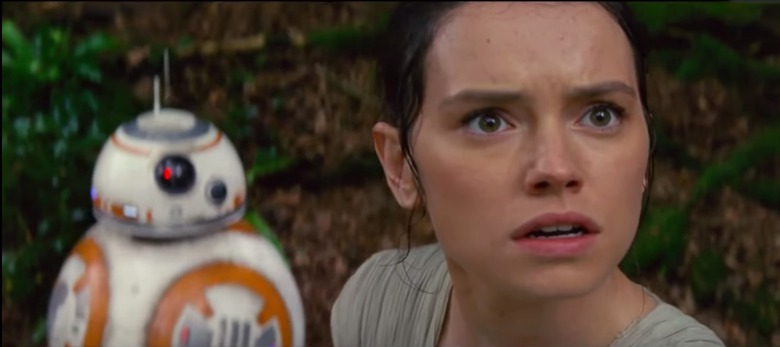 It's been over ten years since George Lucas finished his prequel trilogy, and it's no secret they left plenty of fans twiddling their thumbs in disappointment. Despite coming from the man behind Star Wars, the prequels didn't feel like Star Wars movies — they were missing the spirit, emotion and adventure of the original trilogy. All these years later, can J.J. Abrams get this series back on the right track with Star Wars: The Force Awakens?
Well, we're finally finding out tonight. After the jump, share your thoughts on Star Wars: The Force Awakens in the comments. Please note that spoilers are encouraged in the comments section for this post. If you have not seen Star Wars: The Force Awakens, we encourage you to return once you have.
FINAL WARNING: MAJOR SPOILERS AHEAD AND IN THE COMMENTS.
Disney/Lucasfilm has a lot riding on Episode VII. Gareth Edwards' Star Wars: Rogue One comes out a year from now, while director Rian Johnson begins shooting Episode VIII early next year. Disney has bet big on Star Wars, but they have little to fear. Nobody expects Star Wars: The Force Awakens to disappoint, either commercially or critically, and the film is already a success with the critical community.
When I saw the film earlier this week, the packed press screening was full of clapping and cheering — which you rarely see in a press screening. If any of those people weren't excited about seeing more of this world and these characters, then they definitely left the theater excited. I saw the film with cautiously optimistic expectations, and I, too, walked away from the experience looking forward to this franchise's bright future.
Star Wars: The Force Awakens is a passionate sequel, and one that doesn't solely coast on nostalgia. Abrams' film has its callbacks and winks — and the structure shares plenty in common with A New Hope – but it's often an exhilarating adventure to watch unfold. The Force Awakens wouldn't be this entertaining if it only pushed your nostalgia buttons. Maybe for some people that would do the trick, but for a movie over two hours long, it has to do far more than that — and it does.
Abrams, for starters, nails the casting. Daisy Ridley brings a real emotional backbone to The Force Awakens. While Rey's arc is slightly rushed, as the film often moves breathlessly from one set piece to the next, she makes Rey a compelling hero who wants more for her life. Yes, it's very Luke Skywalker-y, but Rey is her own character. The villain, Kylo Ren (Adam Driver), is an equally watchable presence. He's a conflicted villain, with the persistence of a monster and the demeanor of a child. Once all these new characters come together, the spectacle and major emotional beats are immensely satisfying.
Admittedly, some of the fresh additions don't get enough time to leave a major impression. Poe (Oscar Isaac) is a refreshingly straightforward hero, but the rapport established between him and Finn (John Boyega) is quickly abandoned. It's a relationship we'll probably see more of in the sequels, but as a standalone feature, what we get of these two characters isn't quite enough. Also, if you were ecstatic about seeing a badass female villain in this new Star Wars trilogy, you'll have to wait, because Captain Phasma (Gwendoline Christie) has little to do besides looking spectacularly cool in that suit of armor.
At the end of the day, flaws and all, we get a Star Wars movie that feels like a real Star Wars movie. The locations and creatures are once again tangible, but more than that, Abrams, screenwriters Lawrence Kasdan and Michael Arndt, and all involved made a film that captures the optimistic and heartfelt spirit of the original trilogy.
So, what do you think? Did Star Wars: The Force Awakens live up to its wonderful trailer? Was it everything you'd hoped it would be and more?
Weigh in with your thoughts below. Spoilers are encouraged.