LOL: Macaulay Culkin's 'Home Alone' Sorta-Sequel Reveals What Happened To Kevin McCallister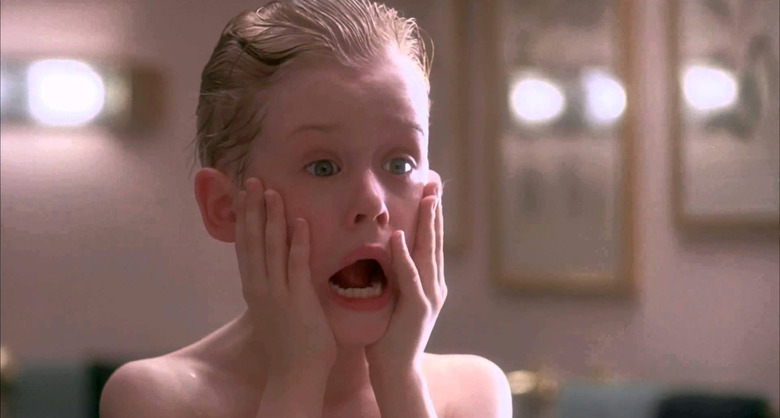 'Tis the season to look back on all our favorite holiday classics... and maybe realize that some of them are way more messed up than we realized as kids. Like Home Alone: Underneath all that wacky physical comedy is a harrowing tale about a little boy left to fend for himself against two adult burglars, and the shockingly sadistic measures he resorts to in order to keep them out. It's the kind of traumatic incident you'd think would leave a lasting mark on a kid, and now an unofficial Home Alone sorta-sequel suggests, in fact, that it did.
The new web series 
RYVERS stars Moldy Peaches guitarist Jack Dishel as a passenger catching rides via an Uber-style car service. In the first episode, the driver who arrives to pick him up, played by Macaulay Culkin, recounts an awfully familiar tale of childhood trauma. If you ever wondered how Kevin McCallister turned out, now you have your answer. See how the adult Kevin McCallister is faring after the jump. 
Warning: NSFW for language.
It's obvious the driver's rant is an extended riff on Home Alone, even if no one's actually naming names. But that offhand mention of Culkin's childhood sweetheart "Anna" has to be a reference to My Girl's Anna Chlumsky, right?
In other news, it's pretty clear that that Home Alone incident derailed this guy's life. Being forgotten by your parents and then targeted by two home invaders is not the kind of thing you just forget about. But on the bright side, it also left him with the know-how to defend himself whenever the need arises. When a would-be carjacker approaches, Culkin turns the tables — and that's when he really gets to show off his dark side. Think about that the next time you catch Home Alone on TV. And if you're traveling this holiday season, please take extra care not to leave your small children behind.