Simon Pegg Responds To The 'Star Trek Beyond' Trailer: "There's A Lot More To It"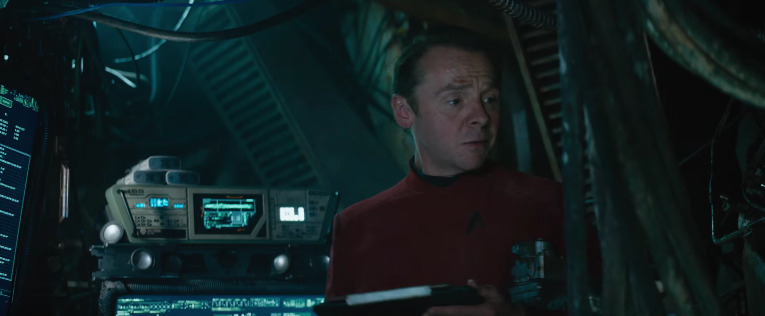 Reactions to the first Star Trek Beyond trailer were... mixed, to say the least. Some fans loved the big, flashy action beats and Beastie Boys soundtrack, while others fretted that it didn't really feel like Star Trek. But Simon Pegg, who co-wrote and co-stars in the movie, gets it. "There's a lot more to the film," he promised, while advising fans to "be patient." See the Simon Pegg Star Trek Beyond trailer response after the jump. 
Hey U Guys asked Pegg for his thoughts on the Star Trek Beyond trailer. Watch his response below, or scroll down to read the transcribed quote.
It was very action-packed. I didn't... Yeah. It was surprising. I find it to be kind of the marketing people saying, "Everybody come and see this film, it's full of action and fun," when there's a lot more to it than that. I didn't love it because I know there's a lot more to the film. There's a lot more story and a lot more character stuff, and a lot more what I would call Star Trek stuff. But you know, they've got to bring a big audience in. They've got to bang the drum. To the Star Trek fans, I'd say be patient.
Pegg's response isn't too different from director Justin Lin's when Peter spoke with him earlier this week. "There were other versions that were much more tradition and I can see where maybe the hardcore fans could probably see that as, 'oh,'" Lin said. "The one thing I wanted to make sure is that it hopefully represents that we are trying to be bold and take risks. Whether we are successful or not, I don't know."
One of the most consistent criticisms was that the Star Trek Beyond trailer looked like a Fast & Furious movie in space, which Lin acknowledged. "When I saw the teaser, I'm like, aw shit. You really have to put the motorcycle in there? So I get it, I get it, I get it."
It's true that trailers can be misleading or even downright deceptive. But in defense of unhappy fans, I don't think most of them were preemptively panning the movie itself — they just weren't thrilled about the tiny bit of footage that had been released so far. That said, there were plenty of people who loved the "Fast & Furious in space" vibe, and if the trailer attracted some attention from moviegoers who otherwise might not be interested in a Star Trek movie, the marketing team has done its job.
What do you think? Are Lin and Pegg's comments about the Star Trek Beyond trailer reassuring? Here's the trailer again for reference:
Star Trek Beyond lands July 22, 2016. Lin directed from a script by Pegg and Doug Jung. Pegg also stars alongside Chris Pine, Zachary Quinto, Zoe Saldana, John Cho, Karl Urban, Anton Yelchin, Sofia Boutella, and Idris Elba.