'Eddie The Eagle' Trailer: Taron Egerton And Hugh Jackman Are Going To The Olympics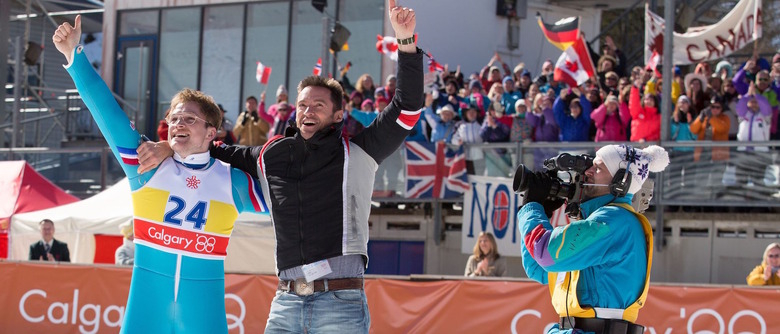 It's early to make predictions about the 2016 movie slate, but it's hard to imagine we'll get many more feel-good sports movies than Eddie the Eagle. Based on the true story of Michael "Eddie" Edwards, the first British competitor in Olympic ski jumping, the Dexter Fletcher-directed biopic got a glowing warm reception at Butt-Numb-A-Thon and has trying to win us over ever since. The first international trailer debuted online a few days ago, and now a new U.S. trailer has hit with tons of new footage.
Kingsman: The Secret Service's Taron Egerton plays Eddie, the underdoggiest of underdogs. He's dreamt all his life of entering the Olympics, and he's determined to do whatever it takes to get there – even if it means taking up the dangerous sport of ski jumping, and hiring a rebellious new coach played by Hugh Jackman. Watch the Eddie the Eagle trailer after the jump.
20th Century Fox premiered the first Eddie the Eagle trailer.
Jackman has described Eddie the Eagle as a mix of Cool Runnings and Billy Elliot, and you can see shades of both in the trailer. In real life (spoilers for the 1988 Olympics), Eddie didn't exactly win big. In fact, he came in dead last, and inspired the Olympics to change the rules so they wouldn't have to deal with more "Eddie the Eagle" situations. But the worse he fared, the harder spectators around the globe cheered him on. Because how could you possibly not root for someone so endearingly earnest?
Inspired by true events, Eddie the Eagle is a feel-good story about Michael "Eddie" Edwards (Taron Egerton), an unlikely but courageous British ski-jumper who never stopped believing in himself – even as an entire nation was counting him out. With the help of a rebellious and charismatic coach (played by Hugh Jackman), Eddie takes on the establishment and wins the hearts of sports fans around the world by making an improbable and historic showing at the 1988 Calgary Winter Olympics. From producers of Kingsman: The Secret Service, Eddie the Eagle stars Taron Egerton as Eddie, the loveable underdog with a never say die attitude.
Eddie the Eagle leaps into theaters on February 26, 2016.