'Gods Of Egypt' Trailer: Alex Proyas' Fantasy Adventure Tries To Get Back On Track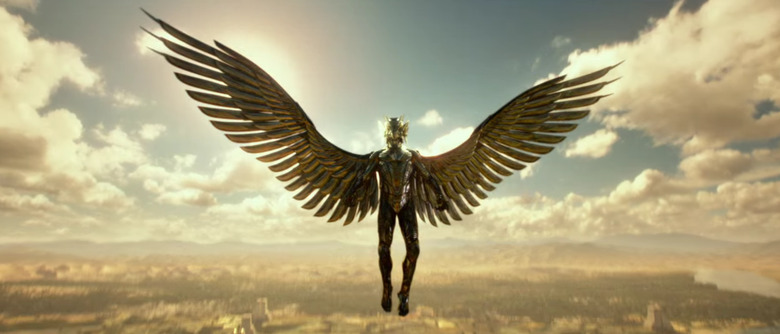 The marketing campaign for Gods of Egypt got off to a rocky start, to say the least. The first character posters were, to be frank, ugly, and the messy first trailer wasn't much better. To top it all off, the film has already sparked criticism for its mostly white cast, prompting apologies from both director Alex Proyas and studio Lionsgate.
But it's far too late to change anything as fundamental as the casting, or the look and feel of the entire movie, so all Gods of Egypt can do is soldier on. The latest Gods of Egypt trailer tones down the crazy a bit, but does that actually make it look better, or just more boring? Find out for yourself after the jump.
If nothing else, this trailer is at least better at laying out the plot. Egypt has gone from awesome to terrible, and it's all Gerard Butler (Set)'s fault; it's up to Nikolaj Coster-Waldau (Horus) and Brenton Thwaites (Bek) to stop him. Simple enough. All that extra stuff from the first trailer, about magical eyes and whatnot, can wait. The tone also looks a bit more evenhanded this time around, though it comes at the expense of some of the humor that shone through in the first trailer.
Gods of Egypt arrives in theaters February 26, 2016. Does the new trailer make you more or less interested?
In this spectacular action-adventure inspired by the classic mythology of Egypt, the survival of mankind hangs in the balance as an unexpected mortal hero Bek [Brenton Thwaites] undertakes a thrilling journey to save the world and rescue his true love. In order to succeed, he must enlist the help of the powerful god Horus [Nikolaj Coster-Waldau] in an unlikely alliance against Set [Gerard Butler], the merciless god of darkness, who has usurped Egypt's throne, plunging the once peaceful and prosperous empire into chaos and conflict. As their breathtaking battle against Set and his henchmen takes them into the afterlife and across the heavens, both god and mortal must pass tests of courage and sacrifice if they hope to prevail in the epic final confrontation.