'Terminator 2' Getting A 3D Re-Release, Probably To Make Up For 'Terminator: Genisys'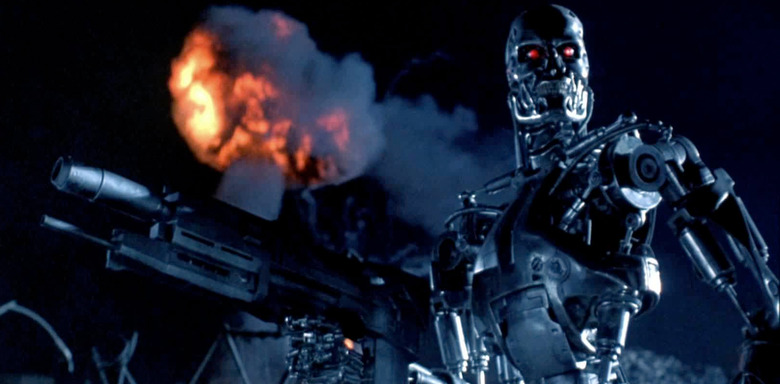 Back in the summer of 2014, director James Cameron teased that we might get to see Terminator 2: Judgment Day get converted to 3D, just like the theatrical re-release of the director's Titanic a few years ago. And while there were no solid plans to make it happen at the time, now Terminator 2 3D is becoming a reality, and it will hit theaters in 2016. Get the details below!
THR has learned that James Cameron is teaming up with DMG Entertainment and Studiocanal to give Terminator 2: Judgment Day a digitally remastered 3D re-release in theaters next year. The two companies will work with Cameron to supervise and produce the conversion by using the latest technology from StereoD.
While some fans in the United States might be excited to hear this news, if only because it means we get to see Terminator 2 in theaters again, this conversion is actually being done with an eye towards targeting China for the global premiere and kick-off. DMG has a China branch, and they'll be working with China Film Group to make it happen. That doesn't mean we won't get to see it here in the U.S., but it's not clear if China will get it before we do or not.
Paramount Pictures isn't mentioned as part of this new endeavor, but this feels like an effort to make up for Terminator Genisys underperforming at the box office. It's almost like they're saying, "Hey, sorry about that terrible Terminator movie. But how about you watch the best one in the franchise again?" Genisys only pulled in $89 million here in the United States, though it did snag over $350 internationally, with a huge debut in China adding a lot of money to the pile.
But it still wasn't enough to pull in a profit. So if China has renewed interest in Terminator, then far less money can be spent on 3D converting a movie that already exists as opposed to making a new one right away. This is exactly what Cameron had predicted back in 2014, almost like he knew this was going to happen:
If there was someone who was interested in doing that, and we could make a good case for the business model like, perhaps let's say, it's never been on screens in China which in the next few years is about to become the biggest market for films worldwide. That alone might justify the cost of a conversion which might be 6 or 7 million dollars. And then a 3D re-release might attract some eyeballs in North American and Europe and then the Chinese release, which would be the first release on the big screen, might pay for it.
I'm just using that as an example. I'm just saying we're not ruling it out. We're looking at it.
This move makes even more sense considering the fact that any Terminator sequels are now on hold with the studio reiterating that the franchise isn't dead, but simply getting a readjustment. But on the less cynical side of things, next year also marks the 25th anniversary of Terminator 2, so it works out for everybody. Cameron says:
Next year marks the 25th anniversary of Terminator 2 and that seemed like the perfect time to bring it back but this time in an all-new 3D version. If you've never seen it, this'll be the version you want to see and remember.
DMG CEO Dan Mintz added to the hype saying:
For a whole new generation of fans, it is truly a chance to see the movie that really set the bar for action and effects that all the movies today are trying to top, in a completely new way — in the theater and in 3D. We are committed to making the conversion the highest quality in order to live up to the expectations of the film's many fans around the world.
But the real question is will it be better than Terminator 2 3D: Battle Across Time?