'Eddie The Eagle' International Trailer: Taron Egerton Is The Ultimate Underdog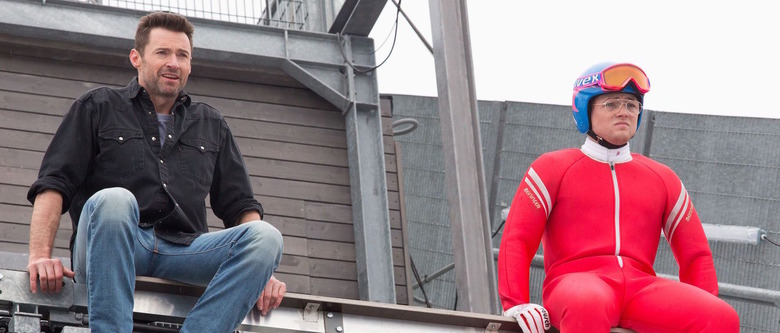 Taron Egerton had a big 2015, bursting onto the scene with Kingsman: The Secret Service and following up with appearances in Testament of Youth and Legend. Next year he'll hope to continue his winning streak by going on the ultimate losing streak, playing British ski jumper Eddie "The Eagle" Edwards in a biopic. Edwards entered the 1988 Olympics as the ultimate underdog, and seemed to get more popular the more he lost.
Eddie the Eagle reunites Egerton with his Kingsman director Matthew Vaughn, although he's only producing this time; Dexter Fletcher directs. Hugh Jackman plays Eddie's coach. Watch the Eddie the Eagle international trailer after the jump.
Eddie the Eagle clearly isn't one of those stories where an outsider comes out of nowhere to win it all. But that's kind of what makes it so endearing. Jackman, who describes the film as a mix of Cool Runnings and Billy Elliot, remembered watching Edwards compete in the 1988 Olympics:
Eddie the Eagle is a folk hero. He's British, but Eddie embodies that quintessential have-a-go quality that Aussies love. He really just went for it as the whole world watched. ...
Every kid should see this movie, because it reminds people that you don't have to win to be a winner. Eddie the Eagle might not have ended up on the medal podium, but he was victorious. It's a story of a man who had a dream, and nothing was going to stop him.
Like pretty much all "based on a true story" movies, Eddie the Eagle takes significant liberties with the source material. The real Edwards, who visited the set multiple times, has stressed that "only 10 to 15%" of the movie is true, though he doesn't necessarily seem upset about it. "There's always a certain amount of [poetic licence] but I'm kind of anxious – what exactly have they put in about my life and how have they portrayed me?" he said.
Accurate or not, Eddie the Eagle has already earned a lot of affection from filmgoers at Butt-Numb-A-Thon, who praised its crowdpleasing mix of heart and humor. We'll be looking out for Eddie the Eagle when it arrives in theaters February 26, 2016.
The film details the inspiring exploits of Michael Edwards, better known as "Eddie the Eagle," the most famous ski jumper in British history. The film's portrayal of Edwards' never-say-die approach to the sport, celebrates the human spirit and resilience in the face of extraordinary odds and challenges. Taron Egerton, who made his feature film starring debut in Kingsman: The Secret Service, portrays Eddie the Eagle, and Hugh Jackman plays a ski jumping expert from Lake Placid who helps Eddie train for the Calgary Olympics.