Spoiler Free Early Buzz: 'Star Wars: The Force Awakens'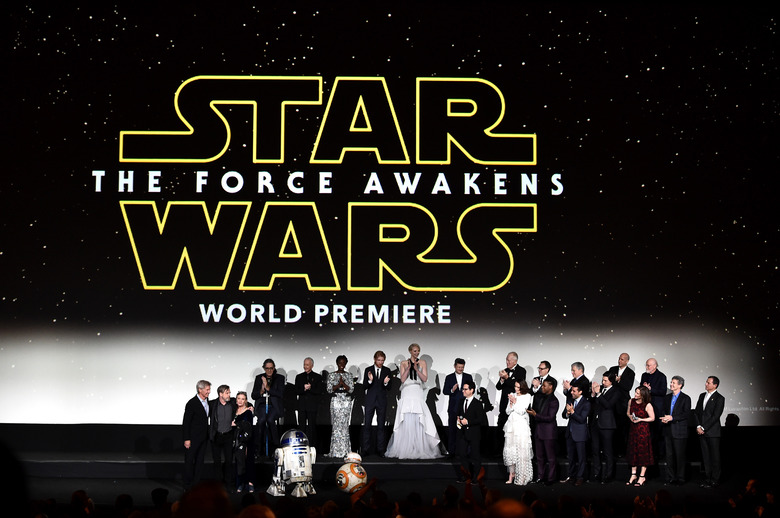 The world premiere of JJ Abrams' Star Wars: The Force Awakens happened last night in Hollywood California at an unprecedented gala that took over the three big theaters on Hollywood Blvd: El Capitan, The Dolby Theatre and The TCL Chinese Theatre. While full on reviews are embargoed until Wednesday morning at 12:01am, guests in attendance at the premiere were allowed to tweet their brief reactions. After the jump you can find the first First Awakens reactions from the premiere screening.
Twitter Star Wars: The Force Awakens Reviews/Reactions
So what did people think of Star Wars: The Force Awakens? I tweeted the following after the screening:
Awesome. The Force has indeed awakened. I can't wait for what comes next. #StarWarsForceAwakens

— /Film (@slashfilm) December 15, 2015
The Force Awakens is everything we want from a Star Wars movie. The film brought me to tears multiple times.
I talked to many people at the premiere party after the screening, and while some people were hesitant to make a definitive reaction after only one viewing, I did not talk to anyone who didn't like the movie. Most people I talked to said it was certainly better than the prequels, with some ranking it as highly as their second favorite in the series.
One thing was very clear from everyone I encountered: Star Wars is back and everyone seems to be excited about the future of the franchise. Below you can find a round up of tweets from journalists, filmmakers and guests in attendance at the World Premiere screening. The film will be screening for press around the world on Tuesday night, so you're very likely going to see more tweets at that time. But feel free to browse the tweets below without the fear of spoilers, as I have ensured that all of the reactions are spoiler free:
"Star Wars" is back. And it's never going away again.

— DrewMcWeeny (@DrewMcWeeny) December 15, 2015
Congrats to #JJAbrams and the entire cast and crew on an incredible film. #ForceAwakens made me a giddy 10 year old all over again.

— Josh Gad (@joshgad) December 15, 2015
Star Wars is back. That's for damn sure.

— Jeff Cannata (@jeffcannata) December 15, 2015
This is what we loved about Star Wars. This is Star Wars.

— Jeff Cannata (@jeffcannata) December 15, 2015
The Force Awakens is soooo Star Wars, and Daisy Ridley is the business, and #StarWars

— jen yamato (@jenyamato) December 15, 2015
Star Wars: The Force Awakens spoke to my every emotion. Most of them good, a few not, but overall it was an amazing, overwhelming experience

— Germain Lussier (@GermainLussier) December 15, 2015
#StarWarsForceAwakens totally delivers #nospoilers I repeat #nospoilers again #nospoilers just #wow pic.twitter.com/SD4odRnTZZ

— Elizabeth Banks (@ElizabethBanks) December 15, 2015
Ranking: 1. Empire Strikes Back. 2. Force Awakens. 3. A New Hope. 4. Return of the Jedi. 5 – 8 Prequels. Thank you JJ. #TheForceAwakens

— Adam F. Goldberg (@adamfgoldberg) December 15, 2015
Among its many wonderful qualities, STAR WARS: THE FORCE AWAKENS passes the Bechdel test.

— Rebecca Keegan (@ThatRebecca) December 15, 2015
Story, characters, design, humor — #StarWars fans, this is the movie you're looking for.

— Rebecca Keegan (@ThatRebecca) December 15, 2015
Spoiler free #TheForceAwakens review: pic.twitter.com/Eli6ykyly0

— Matt Martin (@missingwords) December 15, 2015
1st Star Wars review: it was epic, awesome & perfect. The cast was stellar. JJ killed it!

— RainnWilson (@rainnwilson) December 15, 2015
Not going to say much till I see it again but rest assured THE FORCE AWAKENS is the best STAR WARS since 1983...maybe 1980.

— Steven Weintraub (@colliderfrosty) December 15, 2015
Everything I could possibly say about #StarWars #TheForceAwakens is a spoiler, so I will say that it's super fun and beautifully shot!

— Terri Schwartz (@Terri_Schwartz) December 15, 2015
Also Kylo Ren is the coolest part of the movie (lots of cool parts, but he's my favorite). Adam Driver kills it. #StarWars #TheForceAwakens

— Terri Schwartz (@Terri_Schwartz) December 15, 2015
Out of Star Wars: The Force Awakens. This about sums it up: pic.twitter.com/BPECdYffYy

— Eric Vespe (@EricVespe) December 15, 2015
I have some more complicated thoughts on TFA, but will save them for the review. Some faults, but no doubt best Star Wars film since '83.

— Eric Vespe (@EricVespe) December 15, 2015
We are back in business kids, back in business indeed. Bring on ep 8 #ForceAwakens

— Kristian Harloff (@KristianHarloff) December 15, 2015
J.J. nailed it. #StarWarsForceAwakens is wonderful.

— Amy Hennig (@amy_hennig) December 15, 2015
I'll say this much about #StarWarsForceAwakens the crowd looooooved Daisy Ridley.

— Meredith Woerner (@MdellW) December 15, 2015
JJ did it. #StarWarsForceAwakens

— Patton Oswalt (@pattonoswalt) December 15, 2015
And without spoiling it, I can say that #StarWarsForceAwakens has the BEST final shot of any Star Wars film. Wow.

— Patton Oswalt (@pattonoswalt) December 15, 2015
No spoilers but #TheForceAwakens is beyond amazing. Truly. It was an emotional experience that exceeded my hopes!!! https://t.co/DX8L8qH9sf

— ʞɔiwbɿɒH ꙅiɿʜƆ (@hardwick) December 15, 2015
Awesome!!!!!!

— robliefeld (@robertliefeld) December 15, 2015
I loved it! It's a fantastic ride full of great emotion and spectacle!

— robliefeld (@robertliefeld) December 15, 2015
One last thing — The Force Awakens very much occupies the creative space and feel of the Original Trilogy. Wonderful continuation.

— robliefeld (@robertliefeld) December 15, 2015
SW:TFA is fast, fast, fast...nicely performed...rich cinematography...MUCH better than the prequels & better than Jedi. Great movie-movie.

— Hollywood Elsewhere (@wellshwood) December 15, 2015
SW:TFA was made for the fans, and there's nothing wrong with that. It gave me a better-than-decent ride. Daisy Ridley, John Boyega ace it.

— Hollywood Elsewhere (@wellshwood) December 15, 2015
As much as I liked "Star Wars: The Force Awakens," "The Empire Strikes Back" still rules above all.

— Hollywood Elsewhere (@wellshwood) December 15, 2015
That's not to say SW:TFA is a problem.. It tears around so fast and keeps juggling the balls with such aplomb, you just have to like it.

— Hollywood Elsewhere (@wellshwood) December 15, 2015
The vast majority really liked SW:TFA tonight. I spoke to two guys going "meh" but that was it — 2 guys. Everyone else was fairly giddy.

— Hollywood Elsewhere (@wellshwood) December 15, 2015