'Fantastic Beasts And Where To Find Them' Trailer: Dive Back Into The Harry Potter Universe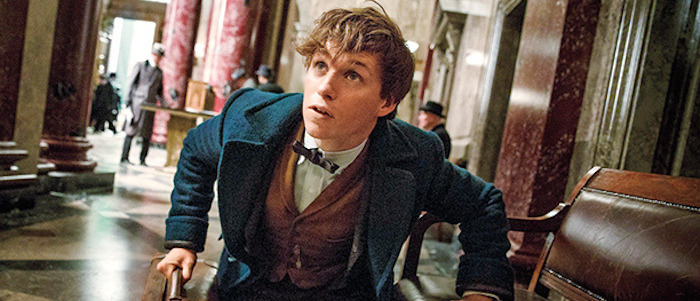 Four years after Harry Potter and the Deathly Hallows – Part 2 closed the book on J.K. Rowling's original fantasy saga, Warner Bros. is cracking open a new story from the franchise. Fantastic Beasts and Where to Find Them picks up in 1920s New York — seven decades and one ocean removed from Harry's adventures at Hogwarts — but it's recognizably set within the same universe, with all the whimsical inventions and fanciful creatures that entails.
Eddie Redmayne leads the spinoff as Newt Scamander, a British "magizoologist" who heads to America in search of magical creatures to document. While there, he encounters all manner of new characters, both wizard and Muggle — or "No-Maj," rather, which is apparently the American term for Muggles. Watch the very first Fantastic Beasts and Where to Find Them trailer after the jump.
Harry Potter fans will recognize Newt Scamander as the author of his Hogwarts textbook Fantastic Beasts and Where to Find Them. Rowling scripted the film herself, and David Yates (who helmed four of the eight Harry Potter films) returned to direct. Fantastic Beasts and Where to Find Them arrives November 18, 2016.
"Fantastic Beasts and Where to Find Them" opens in 1926 as Newt Scamander has just completed a global excursion to find and document an extraordinary array of magical creatures. Arriving in New York for a brief stopover, he might have come and gone without incident... were it not for a No-Maj (American for Muggle) named Jacob, a misplaced magical case, and the escape of some of Newt's fantastic beasts, which could spell trouble for both the wizarding and No-Maj worlds.
"Fantastic Beasts and Where to Find Them" also stars Katherine Waterston ("Steve Jobs," "Inherent Vice") as Tina; Tony Award winner Dan Fogler ("The 25th Annual Putnam County Spelling Bee") as Jacob; Alison Sudol ("Dig," "Transparent") as Tina's sister, Queenie; Ezra Miller ("Trainwreck") as Credence; two-time Oscar nominee Samantha Morton ("In America," "Sweet and Lowdown") as Mary Lou; Oscar winner Jon Voight ("Coming Home," TV's "Ray Donovan") as Henry Shaw, Sr.; Ron Perlman (the "Hellboy" films) as Gnarlack; Carmen Ejogo ("Selma") as Seraphina; Jenn Murray ("Brooklyn") as Chastity; young newcomer Faith Wood-Blagrove as Modesty; and Colin Farrell ("True Detective") as Percival Graves.