'Xena: Warrior Princess' Reboot Moves Forward With 'Lost' Writer Javier Grillo-Marxuach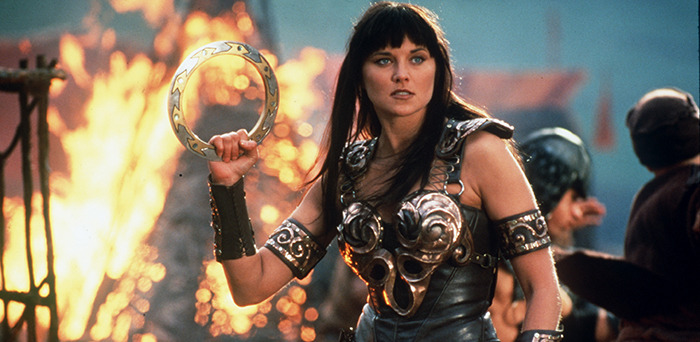 All things '90s are popular again, and female superheroes are having their moment on TV like never before. In other words, it was just a matter of time before Xena: Warrior Princess returned to the small screen, and today NBC's planned reboot took one big step closer to becoming a reality.
Lost alum Javier Grillo-Marxuach has just been tapped to write the new series, as well as executive produce with Rob Tapert and Sam Raimi. If all goes well, Xena 2.0 should be smashing her way into our living rooms sometime around 2016. Learn more about the Xena reboot writer after the jump. 
Grillo-Marxuach confirmed the Xena news on social media.
Tapert and Raimi were both involved with the original Xena: Warrior Princess, which ran for 134 episodes across six seasons from 1995 to 2001. Lucy Lawless played the title character, who originated in an episode of Hercules: The Legendary Journey. Lawless is not expected appear in the Xena reboot, although it's still possible she could get involved behind the scenes. To be clear, the project is still in the development stages and hasn't officially been picked up to series.
According to THR, the Xena reboot "will follow a new, modern Xena, with the lead actress needing to have the charisma and charm of original star Lucy Lawless and the smarts of The Hunger Games' Katniss as producers are said to be looking for a sophisticated and smart superhero for a new generation." Sounds like a pretty tall order, but then again the original Xena leaves behind huge boots to fill. It's still unclear how, or if, the new Xena will be connected to the old Xena.
Grillo-Marxuach won an WGA Award and an Emmy for his work on Lost, and his other credits include Charmed, The Chronicle, Bomotown, Jake 2.0, Medium, Charlie's Angels, and Helix. He also created the totally delightful but severely underrated sci-fi comedy The Middleman, which you should totally check out if you haven't already.
And then remember the good ol' days of Xena with the opening credits below: