'Doctor Strange' Conjures Up 'Sinister' Scribe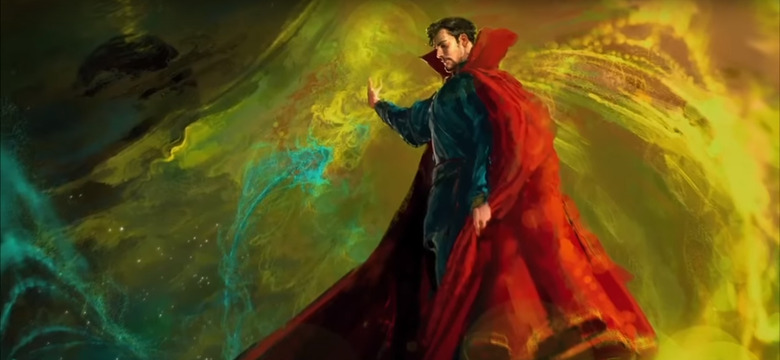 Doctor Strange has been shooting for a few weeks already under director Scott Derrickson, with Benedict Cumberbatch leading the cast. Much of the rest of the cast and crew were officially confirmed in a press release last month. Today, another piece of the puzzle has fallen into place.Sinister scribe C. Robert Cargill has confirmed that has teamed with Derrickson to write the mystical Marvel adventure, which hits theaters next year. More about the Doctor Strange writer news after the jump. 
Cargill took to social media today to announce that he's been working on Doctor Strange for the past year. Here's what he had to say about it on Facebook:
It's not a secret anymore. For those of you who don't know what I've been doing for the past year, I've been writing DOCTOR STRANGE for Marvel Studios. And I couldn't be happier or prouder. Our cast and crew are amazing and I'm having the best time.
...SQUEEEEEE!
And here he is on Twitter:
So yeah. It's finally out in the wild. I've been working on this for the better part of the last year. pic.twitter.com/BTZDaItsbt

— C. Robert Cargill (@Massawyrm) December 14, 2015
Cargill and Derrickson's relationship goes back a while. They worked together on both Sinister scripts (Derrickson also directed the first Sinister movie). In addition, they reunited for a feature adaptation of the video game Deus Ex, and then again for an Outer Limits script based on a Harlan Ellison story. It's no surprise they've elected to join forces yet again on Doctor Strange.
Doctor Strange has been in the works for years, and has gone through a few different screenwriters already. Thomas Donnelly and Joshua Oppenheimer (2013's Conan the Barbarian) turned in an early draft of the script, and Jon Spaihts (Prometheus) tinkered with it more recently. Here is the very stingy official synopsis for Doctor Strange:
"Doctor Strange" follows the story of neurosurgeon Doctor Stephen Strange who, after a horrific car accident, discovers the hidden world of magic and alternate dimensions.
Besides Cumberbatch as Stephen Strange, Doctor Strange also stars Chiwetel Ejiofor as Baron Mordo, Tilda Swinton as the Ancient One, Mad Mikkelsen, Rachel McAdams, Michael Stuhlbarg, Scott Adkins, and Amy Landecker. It arrives in theaters November