'Mystery Science Theater 3000' Revival Now The Largest Crowd-Funded Project Ever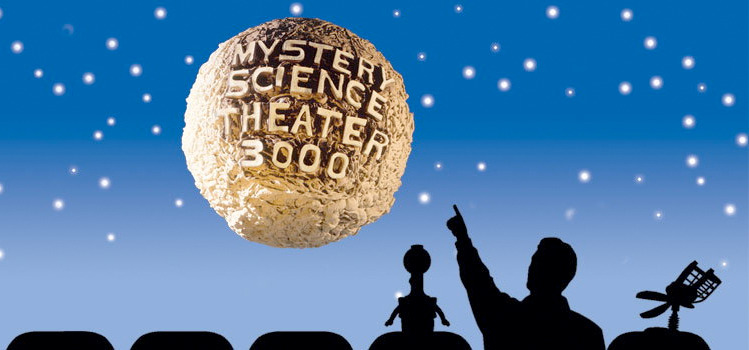 For the past month, we've been reporting on the progress of a Kickstarter campaign to bring back the cult favorite, movie-mocking TV series Mystery Science Theater 3000. Creator Joel Hodgson started an ambitious crowd-fund campaign to raise $5.5 million in order to produce 12 new episodes of the show with a whole new cast, and last night the campaign ended with even more good news than expected.
The Mystery Science Theater 3000 Kickstarter is now the largest crowd-funded online video of all-time, and the campaign made so much that they'll actually be able to make 14 new episodes. It truly is a great time to be alive.
Last night, Hodgson did some last minute campaigning by streaming classic MST3K episodes and also held a live telethon. The fundraising did so well that some stretch goals were added which resulted in a total of $6.3 million being raised, which Paste pointed out, pushed the project ahead of the previous Kickstarter of $5.7 set by Veronica Mars.
FOURTEEN EPISODES FUNDED!!! Thank you MSTies! #BringBackMST3K

— Mystery Science Theater 3000 (@MST3K) December 12, 2015
As we said, the result is an extended 14-episode season, which will include a new holiday special. But as Hodgson noted before, "This isn't just about making one new season: it's about convincing a 'conference table full of executives' to give our show a home, so that we can make a lot more seasons." So hopefully enough people tune in to convince the right people to keep funding the show so fans don't have to pay for it all themselves.
As we've reported, the new cast includes Jonah Ray as the new human lead character with Hampton Yount and Baron Vaughn providing the voices for Tom Servo and Crow T. Robot respectively. In addition, Patton Oswalt will be playing TV's Son of TV's Frank and Felicia Day is playing Kinga Forrester.
Behind the scenes, some of the guest writers on the show that have been revealed include Community creator Dan Harmon, Rick and Morty co-creator Justin Roiland, Rob Schrab (The LEGO Movie Sequel), Nell Scovell (The Muppet Show), Ernest Cline (Ready Player One), Pat Rothfuss (The Name of the Wind), comedian Dana Gould, musical act Paul & Storm, and Robert Lopez (the EGOT-winning songwriter behind Frozen).
And if you need anymore reason to be convinced, Hodgson also recently revealed that some of the stars who are anxious to have cameos on the series include Mark Hamill, Jack Black, Neil Patrick Harris, Joel McHale, Bill Hader and Jerry Seinfeld. This revival is really turning into something special, and I can't wait for the crew to get the projector back up and running.