'The Hateful Eight' Started Out As A 'Django Unchained' Sequel; Plus: Wide Release Moved Up One Week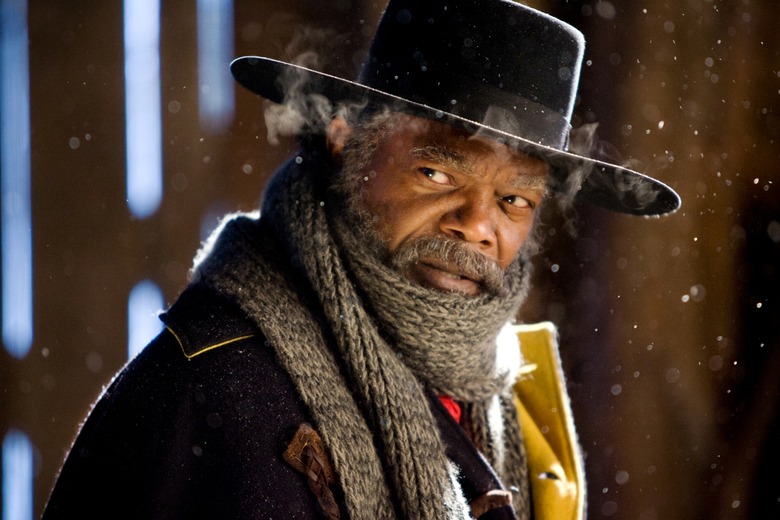 The Weinstein Company is giving cinephiles a chance to start 2016 off right. The Hateful Eight is now set to roll into theaters January 1, a week earlier than its previously announced January 8 wide release date.
Of course, that still means much of the country has three weeks until they can see Quentin Tarantino's latest. So while we wait, here's an interesting bit of trivia to consider: Did you know that The Hateful Eight originally started out as a Django Unchained sequel? Find out why Tarantino ultimately decided not to make it one after the jump. 
First, let's get the new Hateful Eight wide release news out of the way. Deadline broke the news that The Hateful Eight will open January 1, 2016 to take advantage of the holiday weekend. The new date applies only to the 35mm and digital print versions of the movie. It will not affect the 70mm roadshow screenings, which are still expected to hit 100 theaters across the country starting on Christmas Day (December 25). And while, yes, 70mm is the way to go if you can swing it, let's be real — a regular old 35mm or digital projection is better than not seeing it at all.
Whichever format you see The Hateful Eight in, you'll surely notice some obvious similarities to Tarantino's last film, Django Unchained. Both are Civil War-era Westerns starring black male leads — Jamie Foxx's Django in the earlier film and Samuel L. Jackson's Major Warren in the new one. Those parallels probably have something to do with the fact that The Hateful Eight was originally going to be another adventure starring Django.
Speaking to David Poland (via Collider), Tarantino revealed that he first started writing The Hateful Eight as a book sequel to Django Unchained.
After doing Django I knew I didn't want to do any Django movie sequels or anything, but I liked the idea of there being several paperbacks that could be the further adventures of Django or maybe go back in time, a couple more Django/Schultz adventures. So I hadn't written a novel before and I thought I would just try my hand at writing a Django paperback. At the time it was called Django in White Hell. Instead of Major Warren it was Django."
However, Tarantino explained, the character ultimately didn't work for the story.
Because I was introducing such rough characters in this piece, and there would be even more disreputable characters waiting for them [at the haberdashery], at a certain point I realized, 'well you know what's wrong with this piece? It's Django. he's needs to go. Because you shouldn't have a moral center when it comes to these eight characters.'
Basically, Django just wasn't hateful enough. And having seen the movie, let me tell you, the hateful eight really earn their title. Keeping Django out of it was probably the right choice.
What makes this bit of trivia especially amusing is that one of the very first things we learned about The Hateful Eight, even before the title, was that it was not a sequel. "It's not a Django sequel, but it's another Western," Tarantino teased back in 2013. He wasn't lying about The Hateful Eight not being a Django Unchained sequel, but he certainly didn't let on at the time how close it came to being one.
You can watch Poland's full interview with Tarantino below.
And just for fun, here's that kickass Hateful Eight trailer again.