'Kubo And The Two Strings' Trailer: Laika Has Gone And Made A Stop-Motion Fantasy Adventure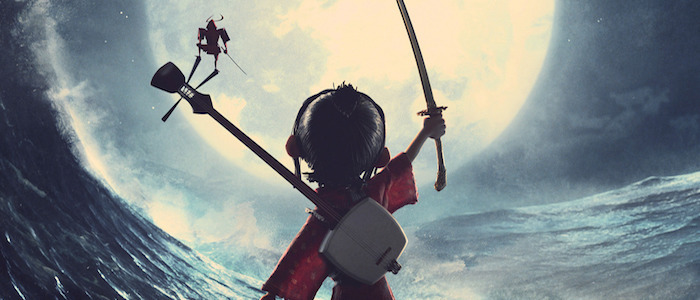 Laika, the animation studio known for quirky and visually stunning stop-motion animated movies like Coraline, ParaNorman, and The Boxtrolls, are back with their latest project, Kubo and the Two Strings. And like their previous work, which floated between genres and refused to pin the company down as the maker of a certain kind of movie, this one looks visually stunning and unlike anything else being sold to family audiences these days.
Watch the Kubo and the Two Strings trailer after the jump.
This is a teaser trailer in the strictest sense of the word. There's no plot here, just 66 seconds of beautiful animation and evocative imagery. Kubo and the Two Strings seems to place in a fantasy landscape inspired by Japanese mythology and imagery and the result is the kind of thing you really don't see in American animation. Unlike Kung Fu Panda, which borrowed from Asian culture as the foundation for a silly joke, Laika seems to be building something a little more serious and respectable.
And perhaps they can get away with making this kind of movie because of that cast they've assembled. Although the title character is voiced by the relatively unknown Art Parkinson (best known as Rickon Stark on Game of Thrones), the supporting cast includes George Takei, Charlize Theron, Matthew McConaughey, Rooney Mara and Ralph Fiennes. That's an awful lot of white people for a movie so clearly set in Japan (George Takei is not the only Asian-American actor out there, people), but that's a subject for a longer conversation. Sorry Laika: you make terrific movies, but we've got to call you out on this.
And while the trailer doesn't supply anything in the way of plot, this plot synopsis sure does:
Clever, kindhearted Kubo (voiced by Art Parkinson of Game of Thrones) ekes out a humble living, telling stories to the people of his seaside town including Hosato (George Takei), Hashi (Cary-Hiroyuki Tagawa) and Kamekichi (Academy Award nominee Brenda Vaccaro). But his relatively quiet existence is shattered when he accidentally summons a spirit from his past which storms down from the heavens to enforce an age-old vendetta. Now on the run, Kubo joins forces with Monkey (Academy Award winner Charlize Theron) and Beetle (Academy Award winner Matthew McConaughey), and sets out on a thrilling quest to save his family and solve the mystery of his fallen father, the greatest samurai warrior the world has ever known. With the help of his shamisen – a magical musical instrument – Kubo must battle gods and monsters, including the vengeful Moon King (Academy Award nominee Ralph Fiennes) and the evil twin Sisters (Academy Award nominee Rooney Mara) to unlock the secret of his legacy, reunite his family and fulfill his heroic destiny.
Kubo and the Two Strings opens on August 19, 2016. You can check out the first poster for the film below.