Watch John Williams Conduct New Music For 'Star Wars: The Force Awakens'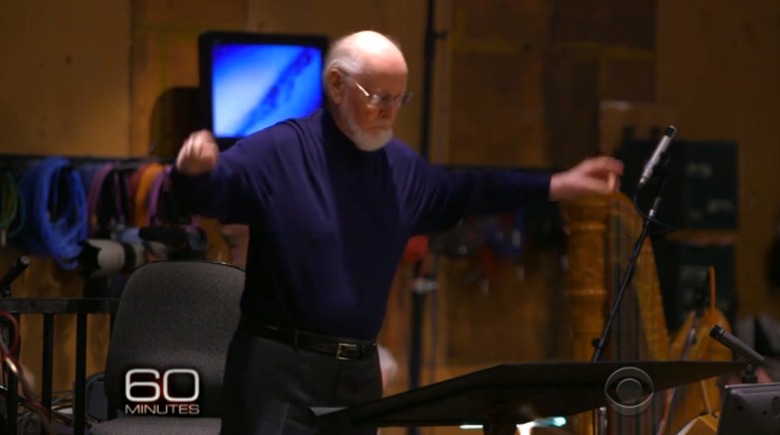 We may receive a commission on purchases made from links.
The trailers for Star Wars: The Force Awakens have been filled with temp and trailer music, so we've yet to really hear John Williams' score for Episode VII... until now. 60 Minutes is doing a profile on the new Star Wars film and in a preview released online we get to see director JJ Abrams direct John Williams on the scoring stage. Williams conducts an orchestra playing new music from Star Wars: The Force Awakens in this preview clip. Watch and listen to the John Williams Force Awakens score in the clip embedded after the jump.
The following preview come from 60 Minutes:
The video footage above was recorded over five weeks ago somewhere in Los Angeles. Its fun to see director JJ Abrams recording the scene on his iPhone like a fanboy. As noted in today's Force Awakens Bits, this is the first Star Wars score recorded in Los Angeles vs. London. Here is what we know about the score:
The Star Wars: The Force Awakens score was recorded over 12 sessions in Los Angeles scattered over a five-month period between June and mid-November. The composer started writing the score in December 2014.
The score was recorded in Los Angeles vs. London because JJ Abrams' "editing process is very different."
The 90-piece orchestra recorded 175 minutes of music, but nearly an hour of that was discarded, modified or rerecorded as Abrams re-edited the film.
There are "a few short references" to themes from earlier Star Wars films, but "nearly all of the two-hour-plus score is new."
Williams has written a handful of themes for characters including Rey, Kylo Ren and Poe,  along with "a major march piece" for the Resistance and "a choral motif for Snoke (Andy Serkis) based on a Kipling poem translated into Sanskrit."
The end titles are almost 8 minutes long, starting with the typical Star Wars end theme and then dovetailing through the new themes from the film.
Snoke's theme was recorded by a 24-voice men's chorus.
I can't wait to hear it in the movie. The soundtrack will also be released on CD and MP3 on December 18th 2015.