'X-Men: Apocalypse' Trailer: The End Is Nigh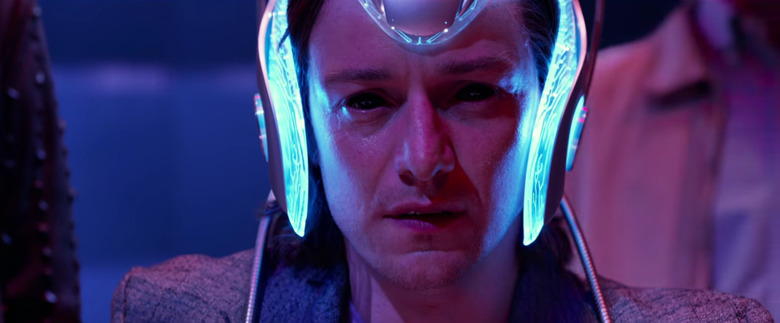 One by one, all of next year's biggest comic book movies are revealing themselves. Over the past few weeks we've seen new trailers for Batman v Superman: Dawn of Justice and Captain America: Civil War. Today, X-Men: Apocalypse gets its turn in the spotlight.
Bryan Singer directs the latest installment of the long-running superhero saga, which sees Professor X (James McAvoy), Mystique (Jennifer Lawrence), and more coming together to battle an ancient mutant known as Apocalypse (Oscar Isaac). The first X-Men: Apocalypse trailer has arrived, and you can see it after the jump. 
Fox dropped the new X-Men: Apocalypse trailer on YouTube.
The promo offers our first look at some of the "new" mutants in action — including Jean Grey (Sophie Turner), Cyclops (Tye Sheridan), Storm (Alexandra Shipp), Nightcrawler (Kodi Smit-McPhee), Jubilee (Lana Condor), Angel (Ben Hardy), and Psylocke (Olivie Munn) — right alongside returning favorites like Magneto (Michael Fassbender), Beast (Nicholas Hoult), and Quicksilver (Evan Peters).
X-Men: Apocalypse is in theaters May 27, 2016. Here is the official syonpsis:
Following the critically acclaimed global smash hit X-Men: Days of Future Past, director Bryan Singer returns with X-MEN: APOCALYPSE. Since the dawn of civilization, he was worshipped as a god. Apocalypse, the first and most powerful mutant from Marvel's X-Men universe, amassed the powers of many other mutants, becoming immortal and invincible. Upon awakening after thousands of years, he is disillusioned with the world as he finds it and recruits a team of powerful mutants, including a disheartened Magneto (Michael Fassbender), to cleanse mankind and create a new world order, over which he will reign. As the fate of the Earth hangs in the balance, Raven (Jennifer Lawrence) with the help of Professor X (James McAvoy) must lead a team of young X-Men to stop their greatest nemesis and save mankind from complete destruction.