This Week In Trailers: The Treasure, American Street Kid, Unbranded, River Of Fundament, The Other Side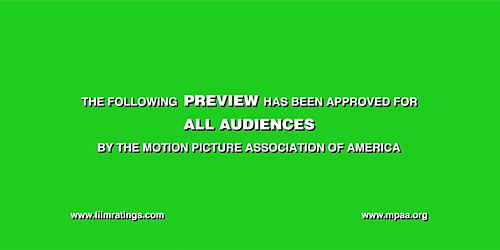 Trailers are an under-appreciated art form insofar that many times they're seen as vehicles for showing footage, explaining films away, or showing their hand about what moviegoers can expect. Foreign, domestic, independent, big budget: What better way to hone your skills as a thoughtful moviegoer than by deconstructing these little pieces of advertising? This week we see what happens when you mash up performance art with a big budget, deal with the issue of youth homelessness, dig for some buried treasure with a little dry humor, get the song "Wild Horses" stuck in our heads, and try to overcome some very real hardships.
River of Fundament Trailer
I cannot possibly write with enough enthusiasm how excited I am to share this.
Director Matthew Barney is less director in the conventional sense as he's more of a performance artist. Already you should feel the deep chill that this is not X-Men: Apocalypse but let that liberate you in seeing this as a piece of art that is truly the sum of an artist's vision come to life. I was introduced to Barney by way of a "movie" called Cremaster 3. Here's the trailer if you want to get a taste of what visual nightmares are made of. I could not tell you why it was so evocative or the many emotions I had for/against it while being subjected to it but the joy was in the exercise itself, consuming someone's stream of consciousness, insanity being made tactile without guile. To give you an idea of what this new exercise encompasses here's part of the New York Times review of the movie:
To say that Matthew Barney makes art movies is not to provide a genre descriptive. A conceptual-performance artist, Mr. Barney makes films completely out of the Hollywood system. His meticulous works, gargantuan in scope and length, follow ostensibly linear paths, but aren't really narratives. Concerned with the human body and bodily function — his most famous work, the "Cremaster" cycle, is named for the muscle that controls the rising and lowering of the testes — they are appreciated best as "pieces" rather than movies.
...The imagery of "River of Fundament" grows ever more aggressive, until a third act that's almost an assault. Suffice it to say that it makes "Pink Flamingos" look like "The Sound of Music," and if that sounds hard to believe, don't say I didn't warn you. That said, it's clear that Mr. Barney's purpose is entirely serious (there are no laughs to be had here, even unintentional, unless you're the type of person who likes forcing the issue), and the web of allusions and cultural associations Mr. Barney weaves is, on a certain level, staggering, and sometimes moving. For that reason, "River of Fundament" is often a commanding, engaging and certainly challenging experience. Nevertheless, by the end of the piece I felt deliberately alienated, and to a nearly infuriating degree.
After realizing this is a five-and-a-half hour epic that would be the physical world equivalent of running an ultra-marathon while sucking on salt tablets, I can see that already some have moved on. For those who can endure, and want to see Paul Giamatti, Maggie Gyllenhaal or Ellen Burstyn chew up scenery with aplomb, this trailer sells the hell out of one epic that I, for one, cannot wait to ingest.
The Other Side Trailer
Let's not bury the lede.
As a movie that played at Cannes, this is something that needs to be first and foremost on a trailer that is just pure sadness but sadness that opens your heart to the struggles and pain of a fellow human being. It's visceral. Director Roberto Minervini, who was behind the critically acclaimed Stop the Pounding Heart in 2013, takes an approach that somehow makes everything feel as if you're watching a dramatic reenactment only to realize this is an intimate portrait of a real man with pride and is trying to eke out an existence like any of us. It's a harrowing trailer that bleeds emotion and that kind of dread that lives under the surface of every person who is just looking to make something better of themselves. I don't know how I'm supposed to feel by the end of this thing but I want to know this man's story.
Unbranded Trailer
I may live in Arizona but I have little/no appreciation for horse culture. I look askance at any guy wearing tight Wranglers, cowboy boots, and matching hat getting out of a highly polished dually, that misappropriation of  cowboy culture in a state that actually does have a Starbucks on nearly every corner.
As well, I couldn't care less about these over-sized dogs known as horses and the great lengths people will go to "split", "share" or co-own these animals. That said, I'm riveted by director Phillip Baribeau's Hot Docs selected documentary about a true pilgrimage of some steeds on their way from Mexico up to Canada. The colors, sounds, shots, music, pops of true emotion, all coalesce into a trailer that is about as good as it's going to get when it comes to trying to sell you on a story you had zero idea about before pushing play but one you can't wait to wrap your mind around as soon as possible. It's brimming with the kind of charisma that is undeniable and genuine.
American Street Kid Trailer
Stop me if you've heard this one.
It's the holiday season and there is no better time to remind you of how well you have it than with a movie that looks to decimate your emotional core. What I think director Michael Leoni does incredibly well here is blur the line between director and subject. It doesn't matter that he may be commingling with those he's trying to document or if this is some kind of outreach disguised as a frank look at youths who are homelessness, what does matter is that this trailer tears things down in order to build up to something hopeful. It's a social scourge, homelessness is, and only by seeing it and dealing with why this happens can there ever be hope to change things. The trailer is sobering, at times overly dramatic, but it works.
The Treasure Trailer
To be honest, I can't figure it out either. But, it is an award winner.
Maybe it's because I'm catching up on rewatches of the well-polished productions of Mad Max, Ant Man and Mission: Impossible but I need this in my life. The pull-quotes already do the heavy lifting of vouching for what looks like an incredible journey with truly inept people but it's the deadpan that's tickling me in the right places. It's absurd and director Corneliu Porumboiu who directed the critical darling Police, Adjective in 2009, knows exactly how to let things linger just enough that you feel the weight of the situation but also get the punchline. It may feel like someone is unreeling a very slow yarn here but this is, perhaps, one of the funniest things I've seen all week.
Nota bene: If you have any suggestions of trailers to possibly be included in this column, even have a trailer of your own to pitch, please let me know by sending me a note at Christopher_Stipp@yahoo.com or look me up via Twitter at @Stipp
In case you missed them, here are the other trailers we covered at /Film this week: