Cool Stuff: Mondo's Radical 'Gremlins' Print By Jessica Seamans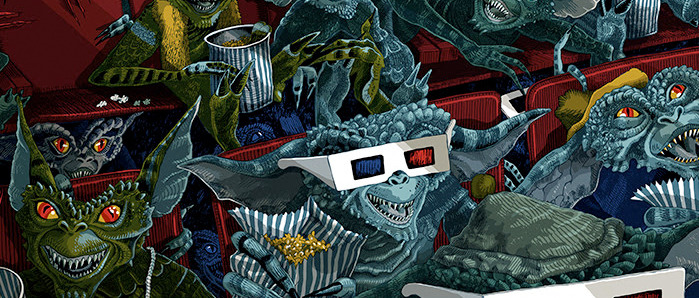 One of the best unconventional Christmas movies to rewatch around this time of the year is undoubtedly Joe Dante's cult horror comedy Gremlins. With outstanding creature effects, the right blend of dark humor and horror, and that adorable Gizmo, it's just a nice change of pace from the usual holiday fare.
And if you're a big fan of the Steven Spielberg presented film, then you might want to pay close attention to Mondo tomorrow for their new Gremlins print by Jessica Seamans, commemorating the wild movie theater experience the gremlins have while watching Snow White and the Seven Dwarfs.
Here's the new Mondo Gremlins print by Jessica Seamans: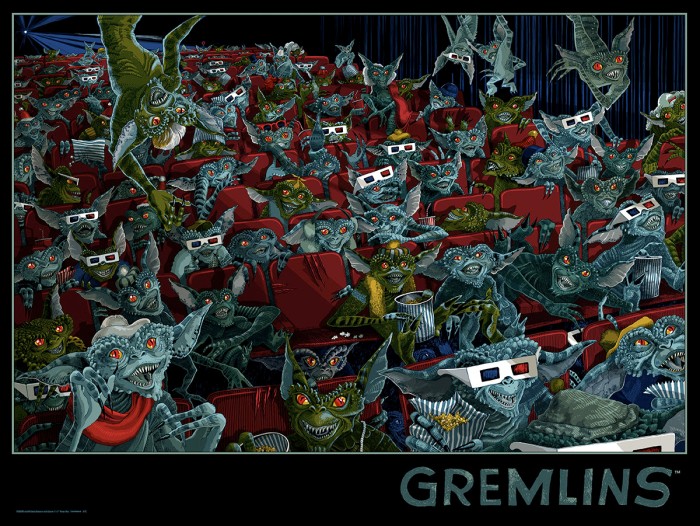 This is just a fantastic piece of work, and the fact that it's the scene that takes place in the movie theater makes it the perfect addition to any cinephile's art collection. Here's what Seamans had to say about her work:
"Naturally, I was thrilled to be asked to do a poster for Gremlins - who wouldn't be? And then, when I actually started working on it, my excitement transformed into intimidation and dread. I knew I wanted to show the great movie theater scene, but how to fill the page with what is is essentially the same face over and over without being totally monotonous and boring? Also, the lighting was really complex, as here I am trying to convey a dark room lit from both the front and the back. Yikes! But, ultimately it was a really fun challenge and I learned some things that I think will make me a better illustrator and printer. Too bad my brain fell out of my head four or five times in the process."
If you want to add it to your wall, this 18x 24 screenprint has an edition of 225, and will cost you $40. But since this is Mondo, you have to pay close attention to their Twitter in order to find out when it goes on sale at a random time today, Friday, December 11th. As usual, you'll probably have to act fast to get ahold of one, so good luck.